Become a CAPtain


with your
A Christ Centered


Community Web Site
Comments?

Christian Media News
A Singles
Christian Network
PLEASE VOTE!


for this site!
---

ALERT: To fully understand this report you should first visit the topics
suggested by the CAP Table of Contents.



SUMMARY / COMMENTARY:

*Crazy in Alabama* (PG-13) -- an example of a good boy embedded in 108 minutes of PG-13.

I liked *Crazy in Alabama* because of the strength and convictions of the young lad who would speak up against a puke sheriff -- but it was still PG-13. And that made me uncomfortable to say the least.

A young boy witnessed a bum sheriff yank a black boy off the fence while trying to escape an all-white swimming pool. And the boy died as a result of the fall. In other places, this movie pointed out the lunacy and ugliness of rejecting people based on their skin color. When we get to Heaven and we stand before Jesus as He welcomes us and doles out the promised rewards, He will not be Caucasian, and He will not be Afro-American. Nor will He be Asian or American Indian. Nor will He be Baptist, Muslim, or Buddhist. He will be Jesus. Can we all take example from that Reality?

But alas, an otherwise good movie was made not so good by the usual stuff. Nineteen uses of the three/four letter word vocabulary. Thirteen uses of God's name in vain, four of them with the four letter expletive. But no uses of the most foul of the foul words were noted. There was unseen murder by decapitation, portrayal of the murderer talking to the unseen head of the victim,, and a mother (the murderer) dumping off her seven kids on grandma after killing her husband to pursue her dream of stardom in Hollywood. Sexual material included excessive breast exposure, sex talk, using sex to escape from lawful custody, and some adults in underwear, but no nudity noted. The only gore in this movie was an eye injury of the central lad. Instead, violence manifested more in racial hatred, armed robbery, and criminal activities than by physical violence.

As always, this Summary/Commentary cannot provide a full accounting of the subject movie. For the best objective representation of the CAP Entertainment Media Analysis Model applied to this movie, visit the Findings/Scoring section below.



---
FINDINGS / SCORING: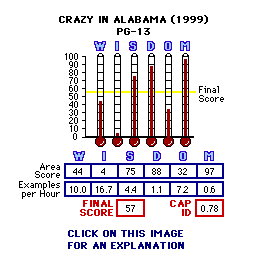 NOTE: Multiple occurrences of each item described below are likely.

Wanton Violence/Crime (W):

admission of murder
portrayal of murderer speaking to the head of the victim
firearm to intimidate
armed robbery
aiding a fugitive
police brutality (racially-based)
lies to cover up unintentional killing
graphic eye injury
breaking and entering to effect racially-based revenge
police beatings of Afro-Americans because they are Afro-Americans

Impudence/Hate (I)(1):

19 uses of the three/four letter word vocabulary
dumping 7 kids off with grandma to pursue personal dream
discrimination based on race
racial hatred
encouragement of a murderer because of the hatred of her victim
insane bitterness behavior
a boy using a sin to to protect a wrong-doer
child arrogance against fair authority

Sex/Homosexuality (S):

sex talk
using sex talk to sway a cop
adult in underwear
using sex to gain escape from lawful custody
suggestive eye movement
excessive breast exposure

Drugs/Alcohol (D):

booze
drinking

Offense to God (O)(2):
•19 uses of God's name in vain, 4 with the four letter expletive

Murder/Suicide (M)(3):

one murder (unseen)