Become a CAPtain


with your
The foul language eliminator


Removes profanity from
movies and TV shows
A Christian Family


Internet Network Cooperative
Switch to LifeLine


for Christian
long distance service
The Family Friendly


Internet Service
A Christ Centered


Community Web Site
Comments?

Christian Media News
A Singles
Christian Network
PLEASE VOTE!


for this site!
Christian Banner eXchange
---

ALERT: To fully understand this report you should first visit the topics
suggested by the CAP Table of Contents.



SUMMARY / COMMENTARY:

*Cradle Will Rock* (R) -- an unusual proof.

Unusual indeed. This movie was so boring I drifted into and out of sleep at least twice, maybe for two or three minutes or so each time. It was so boring I changed the viewing itinerary and left after 65 minutes in time to get to another viewing (*End of the Affair*). And yet, the CAP analysis model proved its worth. The observed 65 minutes of *Cradle Will Rock* minus the unknown number of dozing minutes earned a final score of 50; well within the scoring band of 54 and below for R-rated movies of 1995 and before. If I hadn't dozed and had stayed for the whole film, this score would have been lower if there was even one more item of ignominy in the unseen portion. Even though I am certain I missed a few points of ignominy, there was still enough trash to make the movie mathematically equivalent to R-rated movies of 1995 and before. And before the antagonists bellow "How can you do a review without watching the whole show", we do not do reviews. We do analyses. The observed portion deserved the scoring it received. Who cares whether the unseen portion was pristine if 65- minutes of it was trash?

Eight uses of the most four of the foul words with 16 uses of the three/four letter word vocabulary plus four uses of God's name in vain, two with the four letter expletive and two without. Intercourse with nudity, nude dancing, sex talk, and adults in underwear were the main fare of the observed portion. I have no idea what the plot was, if any. And that may be the only price to pay for not seeing the whole show. But again, who cares. Our function is to inform parents and grandparents the truth about the movie content, not the plot or theme.

Additional ignominy included smoking, booze, drinking, drunkenness and argumentation.

So many of our visitors seem to be relying only on this Summary/Commentary for a full assessment of this movie. This is not possible. For the best representation of the CAP Entertainment Media Analysis Model applied to this movie, visit the Findings/Scoring section below.



---
FINDINGS / SCORING: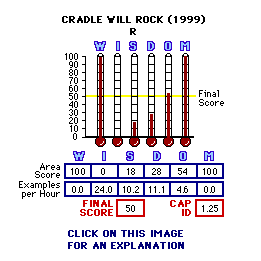 NOTE: Multiple occurrences of each item described below may be likely.

Wanton Violence/Crime (W):

none noted

Impudence/Hate (I)(1):

16 uses of the three/four letter word vocabulary
8 uses of the most foul of the foul words
arrogance against a father
argumentation

Sex/Homosexuality (S):

adultery
adult in underwear
implied intercourse
intercourse with nudity
nude dancing
sex talk

Drugs/Alcohol (D):

booze
drunkenness
smoking

Offense to God (O)(2):

4 uses of God's name in vain, 2 with the four letter expletive and 2 without

Murder/Suicide (M)(3):

none noted