Become a CAPtain


with your
The foul language eliminator


Removes profanity from
movies and TV shows
Switch to LifeLine


for Christian
long distance service
CloseoutVideo.Com

The Family Friendly


Internet Service
A Christ Centered


Community Web Site
Comments?

Christian Media News
A Singles
Christian Network
PLEASE VOTE!


for this site!
Christian Banner eXchange
---



ALERT: To fully understand this report you should first visit the topics suggested by the CAP Table of Contents.

For FREE text-only versions of our media analysis reports as they are calculated, open this email then click "send." If your browser does not handle this URL format properly, send me a request to add you.





NOTE: We make no scoring allowances for Hollywood's trumped-up "messages" to excuse, or its manufacturing of justification for aberrant behavior or imagery. This is NOT a movie review service. It is a movie analysis service to parents and grandparents to tell them the truth about movies using the Truth. If you do not want the plot, ending, or "secrets" of a movie spoiled for you, skip the Summary/Commentary. In any case, be sure to visit the Findings/Scoring section -- it is purely objective and is the heart of the CAP Entertainment Media Analysis Model applied to this movie

.




On July 26, 2000 the American Medical Association, the American Psychological Association, the American Academy of Pediatrics, and the American Academy of Child & Adolescent Psychiatry released a joint statement regarding the dangers of violence in entertainment. I applaud these associations for fortifying 1 Cor. 15:33. An exceptionally important statement in the release that deserves your earnest attention is "There are some in the entertainment industry who maintain that 1) violent programming is harmless because no studies exist that prove a connection between violent entertainment and aggressive behavior in children, and 2) young people know that television, movies, and video games are simply fantasy. Unfortunately, they are wrong on both accounts." [Emphasis is mine] Another statement in the report is "Viewing violence may lead to real life violence." From our five-year study, I contend that other aberrant behaviors, attitudes, and expressions can be inserted in place of "violence" in that statement. Our Director - Child Psychology Support, a licensed child psychologist and certified school psychologist concurs. For example, "Viewing arrogance against fair authority may lead to your kids defying you in real life." Or "Viewing sex may lead to sex in real life." Likewise and especially with impudence, hate and foul language. I further contend that any positive behavior can be inserted in place of "violence" with the same chance or likelihood of being a behavior template for the observer; of being incorporated into the behavior mechanics and/or coping skills of the observer. In choosing your entertainment, please consider carefully the joint statement of the four public health associations and our findings.






If Scriptural references appear, the full text appears at the end of the Summary / Commentary likely using a mix of KJV and NIV.



---


SUMMARY / COMMENTARY:

*Coyote Ugly* (PG-13) -- another "R-13"

While Daddy (John Goodman) stands on the porch with a tear in his eye, Violet (Piper Perabo - The Rocky and Bullwinkle Show) leaves South Amboy, N.J. to take off into the big bad world to make a name for herself as a song writer -- just like her sainted Mama. I thought that was the "young man out to make his fortune" plot with the mother sobbing on the porch as her little boy leaves for the big city. It seems the ladies are getting into the act. But the writer, Gina Wendkos, director David McNally and Piper together presented this "invasion" into previously male territory not as an invasion at all but rather a somewhat touching love story laced with lots of "stuff."

Some of the main "stuff" was dancing to entice. While one dance routine was real hoedown, toe-tappin' country joy, all of the dance routines were clearly to excite and to entice men to spend their money on booze and to tip the girls doing the dancing. In one case, dancing was done to solicit (implied) sexual favor for money to pay off a debt. And accompanying the dancing was some self-touching and lots of quite revealing dress, clearly to maximize the female form with a little extra skin exposure thrown in to boot. This might be the kind of dancing that took John the Baptist's head [Matt 14:6-8].

In her attempts to promote her songs, Piper meets Kevin (Adam Garcia). Now, there is a romantic tale in the making. Kevin is a short-order cook who was maneuvered into masquerading for a short time as a music manager for a lounge so he would have something to break the ice with Violet. Kevin is a nice guy from Australia with a few hard luck stories who never gives up. He finally convinces Violet to enter into an at-first friendly relationship with him which blossoms into a romance. And a touching romance for a PG-13. While there is some inappropriate behavior of the sexual nature involved, for the most part the relationship between Violet and Kevin is clean and "real" without the blatantly obvious expectations of such a relationship typical of a PG-13 movie. While my notes say "woman undressing to underwear to entice/seduce" and "aftermath of intercourse" I cannot remember whether this actress was Perabo or not. But then it doesn't really matter--the sexually inappropriate programming is there, just no nudity (except for silhouetting of nudity) which is infesting PG-13 movies more and more. Indeed, many PG-13 movies are becoming what I call "R-13."

I am going to take advantage of that point to deviate a little from the Summary/Commentary and reveal to you that which was provided to our newsletter subscribers. Following is the newsletter verbatim:



TO: Distribution

July 19, 2000

The strangest thing happened to me as I was updating the CAP movie analysis records. I noticed a significant increase in the percentage of "R-13" movies.

Recall that during CAP analysis model development and verification/validation in 1994/5 that:


G rated movies earned scores from 100 to 87

PG movies earned 86 to 68

PG-13 movies earned 67 to 55

R movies earned 54 and below

A "R-13" movie is a MPAA PG-13 movie which earns a CAP Final Score of 54 and below.

In 1995/6/7, we analyzed 27 PG-13 movies. Four of them (14.8%) were "R-13."
In 1998, we analyzed 19 PG-13 movies. Five of them (26.3%) were "R-13."
In 1999, we analyzed 50 PG-13 movies. Twenty-three of them (46.0%) were "R-13."
So far in 2000, we've analyzed 25 PG-13 movies. Sixteen of them (64.0%) were "R-13."

Do you see a trend forming here?



This "R-13" *Coyote Ugly* ups that 64% to 65.4%. And for the statisticians in our "audience" there were no selection criteria used other than if I had room for one analysis and there were only a PG-13 movie and a R-rated movie available, I would choose the PG-13.

In addition to the above mentioned matters, among the ignominy in *Coyote Ugly* were a ton of barroom scenes with drinking, drunkenness, and revelry; admissions of sexual immorality and a conversational mention of homosexuality with a somehwat positive tone; sexual talks and innuendo; adults in underwear; stripping to underwear; aftermath of intercourse; a father encouraging his daughter to dance in a bar if that is what she wanted to do (his name was not Herod); uses of camera angle to force the viewer to maximize attention on the private parts of the subject; silhouette nudity [Col. 3:5]. Also there were matters of foul language [Col. 3:8] and God's name in vain both with and without the four letter expletive [Lev. 19:12]. The only matters of violence or crime noted were barroom brawls and reckless driving. Clearly, the strongest presences in *Coyote Ugly* were sexual programming, foul language and booze with drinking to excess and drunkenness [Eph. 5:18].



ooooooooooooooooooooooooooooooooo



(KJV) 1 Cor. 15:33 Be not deceived: evil communications corrupt good manners. (NIV) Do not be misled: Bad company corrupts good character.
Matt. 14:6-8 On Herod's birthday the daughter of Herodias danced for them and pleased Herod so much that he promised with an oath to give her whatever she asked. Prompted by her mother, she said, "Give me here on a platter the head of John the Baptist."
Col. 3:5 Put to death, therefore, whatever belongs to your earthly nature: sexual immorality, impurity, lust, evil desires and greed, which is idolatry.
Col. 3:8 But now you must rid yourselves of all such things as these: anger, rage, malice, slander, and filthy language from your lips.
Lev. 19:12 And ye shall not swear by my name falsely, neither shalt thou profane the name of thy God: I am the LORD.
Eph. 5:18 Do not get drunk on wine, which leads to debauchery. Instead, be filled with the Spirit.



ooooooooooooooooooooooooooooooooo




As always, it is best to refer to the Findings/Scoring section -- the heart of the CAP analysis model -- for the most complete assessment possible of this movie.



---
FINDINGS / SCORING: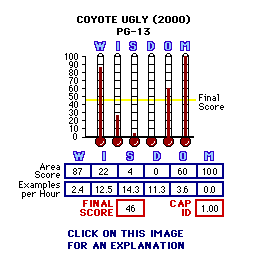 NOTE: Multiple occurrences of each item described below may be likely.

Wanton Violence/Crime (W):

Reckless driving
barroom brawls

Impudence/Hate (I)(1):

18 uses of the three/four letter word vocabulary
cheapening of the husband with [to Piper]: "Danny (the speaker's husband) has been in my life a whole 5 minutes. You've been in my family my whole life."
a father encouraging a daughter to dance in bars if that is what she wants to do

Sex/Homosexuality (S):

admission of sexual immorality
conversational mention of homosexuality
dress to maximize the female for and/or skin exposure
excessive cleavage
sexual talk, comments and innuendo
vulgar dancing
adults in underwear
silhouette of nudity
self-touching
series of sexual comedy
woman undressing to underwear to entice/seduce
aftermath of intercourse
stripping to underwear

Drugs/Alcohol (D):

bar scenery
drinking
drunkenness, crowd level

Offense to God (O)(2):

two uses of God's name in vain with the four letter expletive and three without
camaraderie to excuse sinful behavior

Murder/Suicide (M)(3):