Become a CAPtain


with your
SPECIAL OFFER


From the runaway best-seller.
"I will violate my own
policy statement and urgently
recommend this film..."
-TC-




The foul language eliminator


Removes profanity from
movies and TV shows
Switch to LifeLine


for Christian
long distance service
The Family Friendly


Internet Service
A Christ Centered


Community Web Site
Comments?

Christian Media News
A Singles
Christian Network
Your One Stop


For Everything Christian
Free Email Ministry


Subscribe Today!!
Christian Banner eXchange
---
ALERT: To fully understand this report you should first visit the topics suggested by the CAP Table of Contents.

For FREE text-only versions of our media analysis reports as they are calculated, open this email then click "send." If your browser does not handle this URL format properly, send us a request to add you.
NOTE: The CAP Analysis Model makes no scoring allowances for trumped-up "messages" to excuse or for manufacturing of justification for aberrant behavior or imagery, or for camouflaging such ignominy with "redeeming" programming. Disguising sinful behavior in a theme or plot does not excuse the sinful behavior of either the one who is drawing pleasure from the sinful display or the practitioners demonstrating the sinful behavior. This is NOT a movie review service. It is a movie analysis service to parents and grandparents to tell them the truth about movies using the Truth. If you do not want the plot, ending, or "secrets" of a movie spoiled for you, skip the Summary/Commentary. In any case, be sure to visit the Findings/Scoring section -- it is purely objective and is the heart of the CAP Entertainment Media Analysis Model applied to this movie
"There are some in the entertainment industry who maintain that 1) violent programming is harmless because no studies exist that prove a connection between violent entertainment and aggressive behavior in children, and 2) young people know that television, movies, and video games are simply fantasy. Unfortunately, they are wrong on both accounts." [Emphasis is mine] And "Viewing violence may lead to real life violence." I aplaud these associations for fortifying 1 Cor. 15:33. Read the rest of the story. From our five-year study, I contend that other aberrant behaviors, attitudes, and expressions can be inserted in place of "violence" in that statement. Our Director - Child Psychology Support, a licensed psychologist and certified school psychologist concurs. For example, "Viewing arrogance against fair authority may lead to your kids defying you in real life." Or "Viewing sex may lead to sex in real life." Likewise and especially with impudence, hate and foul language. I further contend that any positive behavior can be inserted in place of "violence" with the same chance or likelihood of being a behavior template for the observer; of being incorporated into the behavior mechanics and/or coping skills of the observer. In choosing your entertainment, please consider carefully the "rest of the story" and our findings.
If Scriptural references appear, the full text appears at the end of the Summary / Commentary likely using a mix of KJV and NIV.
---


SUMMARY / COMMENTARY:

Charlie's Angels (PG-13) -- Angels they were not. And yes, another R-13.

Charlie's Angels is a revival of the old TV series with the same name but without the same modesty using some great imagery technology in the style of The Matrix. Lots of sexual matters and imagery. Lots.

Cameron Diaz, Drew Barrymore and Lucy Liu waste their vast talents on this no-brainer collection of eye candy for teens. Individually these three stars are outstanding enough, but what a spectacular work of art their combined talents could have made. But, n-o-o-o. The trailers were as good as the movie, even the one where Bill Murry strokes his hair emulating a babe (which was not in the cut I saw). Angels they were not. And yes, Charlie's Angels is another R-13.

Three detectives, Natalie (Diaz), Dylan (Barrymore) and Alex (Liu) of the Charles Townsend Detective Agency battle the evil minds of sneaky bad guys to corrupt ultra-scientific software that could trace anyone anywhere by the sound of their voice -- a horrible threat to privacy (as if there were such a thing anymore). Working for a disembodied voice, Charlie (John Forsythe), the trio operate under the coordination of Bosley (Bill Murray). Charlie's Angels is the explosive grandeur of The World Is Not Enough: 007, the floating combat and slo-motion imagery of The Matrix, and the wardrobe of Coyote Ugly all rolled into one.

The fighting sequences were long and sometimes quite graphic [Prov. 3:31]. I've been on the do Jo (and street) a number of times and can tell you that the human body cannot take kicks to the head and chest such as those portrayed in this movie and still get up and fight some more. Another misleading of the entertainment industry -- the 'fight, get up' syndrome. Fights more happen like the time Kareem Abdul kareemed one of his basketball opponents -- one square contact and you are down for a while. Sadly, many of you dads know exactly what I am talking about, right? I suppose the 'fight, get up' syndrome started back in the old B&W western flicks where two cowboys, each with a bullet in the shoulder and sometimes an arrow in the back, would punch each other for what seemed to be an hour then get up and walk with the sherrif to the jail. In one scene in Charlie's Angels a bad guy tries to kill Dylan with gunfire and Dylan dodges the slug. No one can see a bullet coming and dodge it. There is no toying with firearms, folks. None! Firearms are unforgiving and eager to do damage. They are vital tools to this free nation and our safe homes, but they are not toys.

Much toilet humor [Eph. 5:4] is excused of its accountability to wholesomeness by being uttered by a "dizzy blonde" who was supposedly unaware of what she was saying. Two boys, barely pubescent, were shown the female form without the modesty of clothing [Luke 17:2]. Nearly bare breasts seemed to be the "new fad" if not tools to get what was wanted [Prov. 1:10]. Mimicry of oral sex, partial nudity plus flash full nudity, fleshy dancing, and posterior patting between females were but a few of the instances of inappropriate viewing [Eph. 5:3].

And, yes, this was a violent movie: long fight sequences, some quite graphic; reckless driving causing massive property damage; murder and attempted murders; firearm threats; and deaths by explosion/fire.



ooooooooooooooooooooooooooooooooo



1 Cor. 15:33 (KJV) Be not deceived: evil communications corrupt good manners. (NIV) Do not be misled: Bad company corrupts good character.
Prov. 3:31 Do not envy a violent man or choose any of his ways,
Eph. 5:4 Nor should there be obscenity, foolish talk or coarse joking, which are out of place, but rather thanksgiving.
Luke 17:2 It would be better for him to be thrown into the sea with a millstone tied around his neck than for him to cause one of these little ones to sin.
Prov. 1:10 My son, if sinners entice thee, consent thou not.
Eph. 5:3 But among you there must not be even a hint of sexual immorality, or of any kind of impurity, or of greed, because these are improper for God's holy people.



ooooooooooooooooooooooooooooooooo



As always, it is best to refer to the Findings/Scoring section -- the heart of the CAP analysis model -- for the most complete assessment possible of this movie.



---
FINDINGS / SCORING: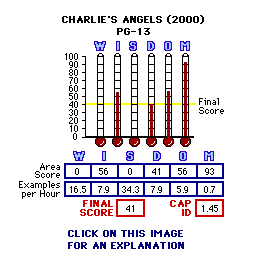 NOTE: Multiple occurrences of each item described below may be likely, definitely when plural.

Wanton Violence/Crime (W):

sky diving perils
abductions
pretense of suicide
episodes of reckless driving causing massive property damage and reckless endangerment
long sequences of fighting, some graphic
vehicular dare driving
stage murder
attempted murder by automatic gunfire
attempted murders by blade
attempted murder by choking
attempted murders by explosion
threats with firearms
death by explosion

Impudence/Hate (I)(1):

11 uses of the three/four letter word vocabulary
vulgar gesture

Sex/Homosexuality (S):

male and female going into airplane restroom together with excitement
revealing swimwear
cohabitation
masked nudity
vulgar dancing
sexual comments, innuendo, talk
adult in underwear
dressing to maximize female form or skin exposure
partial nudity
flash full nudity
gamming
excessive breast exposure
vulgar tease
inappropriate touch - female to female
camera angle to force viewer on private parts
suggestive eye movement
fleshy dancing
nudity by implication (bare female backs)
attempts at seduction

Drugs/Alcohol (D):

booze
smoking
drinking
drunkenness

Offense to God (O)(2):

one use of God's name in vain with the four letter expletive and 8 without

Murder/Suicide (M)(3):