Become a CAPtain


with your
The foul language eliminator


Removes profanity from
movies and TV shows
Switch to LifeLine


for Christian
long distance service
CloseoutVideo.Com


Absolute lowest price
videos/DVDs inthe world
guaranteed!
The Family Friendly


Internet Service
A Christ Centered


Community Web Site
Comments?

Christian Media News
A Singles
Christian Network
Your One Stop


For Everything Christian
Free Email Ministry


Subscribe Today!!
PLEASE VOTE!


for this site!
Christian Banner eXchange
---
ALERT: To fully understand this report you should first visit the topics suggested by the CAP Table of Contents.

For FREE text-only versions of our media analysis reports as they are calculated, open this email then click "send." If your browser does not handle this URL format properly, send us a request to add you.
NOTE: We make no scoring allowances for Hollywood's trumped-up "messages" to excuse, or its manufacturing of justification for aberrant behavior or imagery. This is NOT a movie review service. It is a movie analysis service to parents and grandparents to tell them the truth about movies using the Truth. If you do not want the plot, ending, or "secrets" of a movie spoiled for you, skip the Summary/Commentary. In any case, be sure to visit the Findings/Scoring section -- it is purely objective and is the heart of the CAP Entertainment Media Analysis Model applied to this movie
On July 26, 2000 the American Medical Association, the American Psychological Association, the American Academy of Pediatrics, and the American Academy of Child & Adolescent Psychiatry released a joint statement regarding the dangers of violence in entertainment. I applaud these associations for fortifying Bible reality. An exceptionally important statement in the release that deserves your earnest attention is "There are some in the entertainment industry who maintain that 1) violent programming is harmless because no studies exist that prove a connection between violent entertainment and aggressive behavior in children, and 2) young people know that television, movies, and video games are simply fantasy. Unfortunately, they are wrong on both accounts." [Emphasis is mine] Another statement in the report is "Viewing violence may lead to real life violence." From our five-year study, I contend that other aberrant behaviors, attitudes, and expressions can be inserted in place of "violence" in that statement. Our Director - Child Psychology Support, a licensed psychologist and certified school psychologist concurs. For example, "Viewing arrogance against fair authority may lead to your kids defying you in real life." Or "Viewing sex may lead to sex in real life." Likewise and especially with impudence, hate and foul language. I further contend that any positive behavior can be inserted in place of "violence" with the same chance or likelihood of being a behavior template for the observer; of being incorporated into the behavior mechanics and/or coping skills of the observer. In choosing your entertainment, please consider carefully the joint statement and our findings.
If Scriptural references appear, the full text appears at the end of the Summary / Commentary likely using a mix of KJV and NIV.
---


SUMMARY / COMMENTARY:

*Bring It On* (PG-13) -- a sad mix of vilifying of high school hijinks and brain pan paralysis.

*Bring It On* was little more than a bunch of adults acting like teenagers in vulgar and otherwise immoral ways. It was a teen sex show without nudity -- without full nudity anyway: a movie to tell young girls there are big bucks and other bundles of bounty as bouncing body babes. Too bad, too. There were some really fine athletes and gymnasts in this flick with some intricate and inspiring routines. But this open-minded, think-for-yourself, almost parent-free cheer fantasy does present some terms of mature intellectuality and profound worldliness such as "cheer sex" -- describing vulgar touching during boy/girl cheers and "ogling my goodies." That is about the extent of the value of this movie. Oh, yeah! Your teen girls will get a real good lesson in "real life" -- how to be vicious in social interactions and conniving toward completion. One of the cheers used, as a musical I guess, was " I jump! You can look but don't hump. I am major. I roar. I swear I'm not a whore." I couldn't write fast enough to catch the rest of it, but it was not any better.

Some of the moves in some of the cheer routines made me wonder whether those lyrics were all that pretend, especially the moves to mimic sexual intercourse. *Bring It On* is a sad mix of vilifying of high school hijinks and brain pan paralysis. And there was absolutely no evidence of any sort of concern for the developing of wholesome morals and values of young teens. But then, what is different about this teen flick from any of the other summertime flooding of PG-13 of the year 2000? All of them seem to be pushing potty-mouth smut to early teens (and younger) as if that is the way you are supposed to be when you grow up. And there was mockery of Christianity as well as one team of obviously shunned cheerleaders kneeled to pray -- twice. If this was supposed to be a comedy, there was nothing funny about it.

That's all I am going to say about this journey into moral depravity and empty-headed sexual theft of childhood from children. I will leave the "rest of the story" to the Findings/Scoring section.


As always, it is best to refer to the Findings/Scoring section -- the heart of the CAP analysis model -- for the most complete assessment possible of this movie.



---
FINDINGS / SCORING: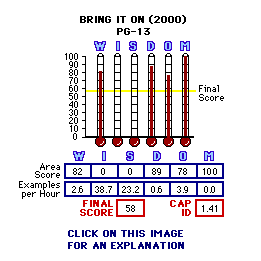 NOTE: Multiple occurrences of each item described below may be likely.

Wanton Violence/Crime (W):

threat of violence
vulgar argument leading to fight

Impudence/Hate (I)(1):

many "catfight" insults and innuendo
arrogance against parental authority
insults based on assumed homosexuality
lies
vulgar gestures
cheating
two uses of the most foul of the foul words
41 uses of the three/four letter word vocabulary

Sex/Homosexuality (S):

many vulgar cheer moves and routines, including two women mimicking sexual intercourse and lesbian actions
planning sexual immorality
sex talk, comments, innuendoes
locker room underwear
ghosting of female anatomy through clothing
vulgar self-touching
vulgar dance routine
camera angle forcing viewer on private parts
admission of bisexuality
vulgar touch, male to female during cheer
male/female in bed
using breasts as car wash sponges
"ogling my goodies"
inappropriate touch
sex song
potty-mouthed younger brother
homosexual presence

Drugs/Alcohol (D):

abuse of prescription drugs

Offense to God (O)(2):

"The Naked Ape" book (the book claiming man is from apes)
six uses of God's name in vain without the four letter expletive

Murder/Suicide (M)(3):