Become a CAPtain


with your
A Christ Centered


Community Web Site
Comments?

Christian Media News
A Singles
Christian Network
PLEASE VOTE!


for this site!
---

ALERT: To fully understand this report you should first visit the topics
suggested by the CAP Table of Contents.



SUMMARY / COMMENTARY:

SUMMARY/COMMENTARY *Bringing Out the Dead* (R) -- stuff that tests my patience.

This movie was bizarre, odd, and even weird. A movie about big city paramedics and their troubles. I was an EMT medic for 12 years and I encountered nothing like that portrayed in this movie. But being a volunteer medic in a rural community, not a big city, may discredit my suspicion of the movie's portrayal of big city emergency medical services (EMS) and the personnel.

The central medic was continually haunted by images of a young girl patient he lost. Most of the women he saw on the streets had the face and voice of the young girl who mumbled haunting comments such as "How could you let me die" only he could hear. If the movie is accurate about EMS on big city streets, a stark ugliness permeates the city. The smallness of character of the victims of the streets and of big city night life and the ease with which they changed their standards gave a unique darkness to this movie. Even if the movie was accurate, such behavior is not okay.

A violent, hateful, and ultra-bitter movie. Thickly nihilistic attitudes of "Take it, don't ask" and "Who cares" toward other people and even themselves made it a true planter of aberrant behavior templates. And all manner of foul and vulgar language blasting the earpans of the patron averaging once every two minutes erased any remaining quality. Some stabs at humor such as "You promised you'd fire me yesterday" and "I promise I'll fire you tomorrow -- I promise" broke up the dirt a little, but no where near enough to rescue this movie.

Except for the foul language, illicit sexual material, and illegal drug use, the examples of ignominy in *Bringing Out the Dead* are widely varied with only a few repeating examples and are most difficult to summarize in text. So please visit the Findings/Scoring section below.

So many of our visitors seem to be relying only on this Summary/Commentary for a full assessment of this movie. This is not possibble. For the best representation of the CAP Entertainment Media Analysis Model applied to this movie, visit the Findings/Scoring section below.



---
FINDINGS / SCORING: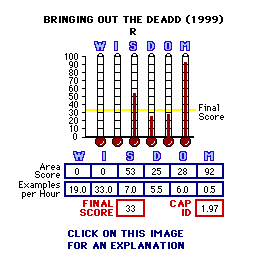 NOTE: Multiple occurrences of each item described below are likely.

Wanton Violence/Crime (W):

graphic conduct of CPR with defibrillation
repeated episodes of multiple injuries in the emergency room with mayhem
desperation of street homelessness
beating
bloody shooting victims with gore and death
blood-covered street people
impalement injuries
many women with the same face
many bizarre mental hauntings by dead patient
intentional destruction of private property

Impudence/Hate (I)(1):

42 uses of the three/four letter word vocabulary
24 uses of the most foul of the foul words

Sex/Homosexuality (S):

adult in underwear
many prostitutes
rear male nudity
partial nudity
full nudity
sex talk and invitations with expletives
vulgar anatomical reference
man and woman in bed together (clothed)

Drugs/Alcohol (D):

smoking dope
booze
drinking
illegal drug use
drug dealing
graphic drug reaction

Offense to God (O)(2):

12 uses of God's name in vain, 5 with the four letter expletive
mockery of Christ's power of resurrection
mockery of God's sovereignty
scene of dead people emerging up through the street bricks

Murder/Suicide (M)(3):

mercy killing