Become a CAPtain


with your
Curse Free TV will


take care of the language
A Christian Family


Internet Network Cooperative
A Christ Centered


Community Web Site
Comments?

Christian Media News
A Singles
Christian Network
PLEASE VOTE!


for this site!
---

ALERT: To fully understand this report you should first visit the topics
suggested by the CAP Table of Contents.



SUMMARY / COMMENTARY:

*Bone Collector* (R) -- shades of *Ironsides*, but not nearly as wholesome.

*Bone Collector* was a well-made flowing suspense thriller with quality acting, opulent choreography plus an ingenious plot -- a handsome show indeed fortifying the intellect of the open-minded and enlightened viewer encouraging thoughtful reassessment of whether language and other behavior once considered aberrant should now be embraced as the norm in view of the more tolerant society we should be, thereby encouraging modern questioning of the need for traditional behavioral skills which, by the way, no longer apply to contemporary behavior since we, as a people, have matured beyond the suffocating values and ethics of a culture of 2000 years ago...



...if you are not wearing the Armor.



I hope a point has been made in the above paragraph-long sentence. *Bone Collector* presented a heavy load of ignominy buried in a consuming tour of excitement and stimulation. So sad, too. This could have been a really good thriller. Denzel Washington was portrayed as a forensics genius who saw the same genius in a foot cop. Together, they cracked a series of murders which mimicked a turn-of-the-century novel. Even the movies portray how people are influenced by entertainment. Why is it so hard for so many to accept that the influence of the entertainment industry is so vast and deep that only other entity that engulfs our kids more than the entertainment industry is air? And for the adversarial readers, please don't try to use "It was an R movie. Kids should not be there." Michael Carneal (Paducah, KY HS shooter) saw *The Basketball Diaries* (R) at age 14. There were 6 or 7 year old kids watching *House on Haunted Hill*. There were 8 or 9 year olds watching *South Park: BLU*. There was a 2 or 3 year old watching an R-rated movie (I cannot remember the title) who started crying when the onscreen married couple started screaming obscenities at each other. I could go on, but I won't.

The score of both Wanton Violence/Crime (which includes gore) and Impudence/Hate (which includes foul language) were off the scale. The analysis model equations had to be modified to accommodate the overflow. The Sex/Homosexuality content of *Bone Collector* was mathematically equivalent to PG movies of 1995 and 1996. The Drugs/Alcohol content was mathematically equivalent to G-rated movies of that period, But the Offense to God score was well below the threshold of R-rated movies of 1995 to 1996, and entirely because of the use of God's name in vain both with and without the four letter expletive. Murder/Suicide also fell well below the threshold score for R-rated movies of that period.

So many of our visitors seem to be relying only on this Summary/Commentary for a full assessment of this movie. This is not possibble. For the best representation of the CAP Entertainment Media Analysis Model applied to this movie, visit the Findings/Scoring section below.



---
FINDINGS / SCORING: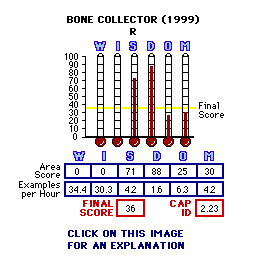 NOTE: Multiple occurrences of each item described below are likely.

Wanton Violence/Crime (W):

skeletal remains of humans
dead bodies with and without amputations, some with flesh removed
crushing injury imagery - crippling
abductions, one of a child
firearms and firearm threats
buried murder victim with face showing through gravel
beating victim with injuries
graphic steam murder victim repeatedly shown
graphic injuries with blood
monkey figure in hangman's noose for effect
story of daughter finding father's suicide body
beating (unseen but with blood)
knife threats
knife attack/slashing
repeated scenes of slash murder victim's body with impalements
repeated scenes of rats eating flesh of dead victim's body
graphic medical seizures
attempted drowning murder of a child
brutalization
mouth-to-throat attack
gunfire death
threats to kill

Impudence/Hate (I)(1):

15 uses of the most foul of the foul words
38 uses of the three/four letter word vocabulary
criminal and/or substandard police activity

Sex/Homosexuality (S):

morning scene of nude (covered) man in bed with woman in room; cohabitation
man wearing only a towel
vulgar reference to male anatomy
sex talk
lesbian pair in bar
sexual painting on a necktie as a gift

Drugs/Alcohol (D):

request for booze while in hospital bed
drinking to relieve stress
bar/booze

Offense to God (O)(2):

12 uses of God's name in vain, 5 of them with the four letter expletive

Murder/Suicide (M)(3):

at least 7 murders, some very graphic