Become a CAPtain


with your
A Christ Centered


Community Web Site
Comments?

Christian Media News
A Singles
Christian Network
PLEASE VOTE!


for this site!
ALERT: To fully understand this report you should first visit the topics
suggested by the CAP Table of Contents.



SUMMARY / COMMENTARY:

*Blue Streak* (PG-13) -- this is NOT a PG-13 movie.

A perfect explanation of why teenagers talk the way they are said to talk. And yes, some or even many of them do talk in a sometimes vulgar and obscene fashion -- away from home, anyway -- just like in the movies, Martin Lawrence movies anyway. And this movie is a perfect example of the lowering of the threshold of acceptance of the Motion Picture Association of America (MPAA). Just the sheer numbers of ignominy, not the severity of any particular one or few of them, in a relatively short movie made the scoring of this movie mathematically equivalent a hard R of 1995/96! Which, in turn, is an example of the subliminal and sometimes invisible negative influence on our embracement of His Expectations of us -- the frog on the stove syndrome. We, as an entertained people, have become so accustomed to such filth that we sometimes do not even notice its presence or a change in its density. But mathematical operations don't become accustomed to morality change and indeed don't even care. THAT is the greatest feature of the CAP Entertainment Media Analysis Model -- its complete objectivity which is not influenced by the changes in the level of acceptance of behaviors contrary to His Expectations of us.

Martin Lawrence, Miles Logan in the movie, plays a high-tech thief and steals a 12 million dollar jewel but gets caught. Oh, what a shame! But in keeping with the trend of bad guy victory in the entertainment industry, Logan succeeds in stashing the megadollar jewel in the heating and air conditioning ventilation ductwork of the same building in which he stole the jewel. Two years later, after release from prison, Logan launches a campaign of disguise and deceit to gain entry into the building in which he stashed the stolen loot -- into a LA Police Department building. The once rich man's business building was renovated into a police department in the two years Logan was in prison. Comedy and hyjinks abound.......and so does the foul language in this movie "for 13 year olds and older."

One hundred and forty eight uses of the three/four letter word vocabulary in this 91-minute movie PLUS 12 uses of God's name in vain without the four letter expletive and four uses with it. Is it any wonder at all now why so many kids use foul language as a second skin? And the youth of 13 years old does not absolve them OR their parents of Deut. 5:11 and Matt. 12:36-37. This is very harsh Reality, folks but remember -- I did not write the rules. I am just reminding you of them.

*Blue Streak* also contained a number of issues of violence and criminal behavior (imagine that) including gunfire murder, intimidation by firearms threat, and gunfire to attempt murder. Of importance timely to our culture of freedom from consequences, successful crime was portrayed.



---
FINDINGS / SCORING: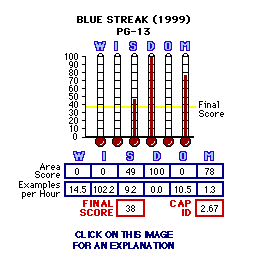 NOTE: Multiple occurrences of each item described below are likely.

Wanton Violence/Crime (W):

breaking and entering sequence
threats with guns
attempted murder by explosives
illegal flight to avoid lawful prosecution
murder victim
forgery of police ID
reckless driving for fun
robbery and attempted robbery with firearms
gunfire to attempt murder
beating
gunfire to injure
gun battle
gunfire death
speeding to avoid capture
chase dangers
successful crime

Impudence/Hate (I)(1):

lies to deflect and confuse accountability
148 uses of the three/four letter word vocabulary

Sex/Homosexuality (S):

sexual innuendo, comments, choreography, references
applying itch cream to male privates (clothed), with suggestive pleasure
nudity masked from viewer by convenience objects with enjoyment by the actor at seeing it

Drugs/Alcohol (D):

none noted

Offense to God (O)(2):

four uses of God's name in vain with the four letter expletive and 12 without, including the use of our Savior's name in vain

Murder/Suicide (M)(3):

two gunfire murders with impact of bullet visible