Become a CAPtain


with your
The foul language eliminator


Removes profanity from movies and TV shows
CHRISTMAS SPECIAL! $40.00 OFF!
A Christian Family


Internet Network Cooperative
Switch to LifeLine


for Christian
long distance service
The Family Friendly


Internet Service
A Christ Centered


Community Web Site
Comments?

Christian Media News
A Singles
Christian Network
PLEASE VOTE!


for this site!
---

ALERT: To fully understand this report you should first visit the topics
suggested by the CAP Table of Contents.



SUMMARY / COMMENTARY:

*Bicentennial Man* (PG) -- a romp into the world of Kevorkianism and Clintonics.

If you are aware of assisted suicides and the authority of our high courts to decide whether an unborn child lives or dies and HOW it is to die if death is decided, then you will recognize Kevorkianism and Clintonics in this movie. While the level of intellect needed for this movie was well outside the typical intellect of younger kids, it certainly can invisibly or subliminally set a possibly indelible bias into their developing minds -- possibly into any vulnerable mind made defenseless by the absence or distortion of the Truth. Sound familiar?

The genius of Robin Williams and his support cast were masterful. Williams' talent with expressions, including vocal, was especially suited for this role of a robot "flowering" into humanhood. The imagination of the writers and others in this production was clearly superior to many other movies of similar theme. Even the plot, intricate as it was, led the viewer on a guided path through the "life" of a robot and its strivings for escape from being a manufactured piece of property. The mix of talents, imagery, and the projection of feeling made this movie as close to "believable" as I have seen. At the risk of being accused of extremism, let me remind you that the antiChrist will be (or is?) believable, too.

Well into the 21st century the World Court, the "Clinton Court" of the future, had the power to decide whether an individual was human or not, just like the higher courts of our land can now decide whether an unborn baby is a human. And though Kevorkian is now in prison for his involvement in assisted suicides, his legacy lives on in this movie as the elderly may order their servant robots to turn off the life support systems of their "masters." And, of course, the movie was as biased as the pro-homosexual movies -- those who were against the central agenda of the use of robots were presented as small minded and abrasive.

*Bicentennial Man* is a detailed and complex excursion through the self development of a robot into a "human." Many parallels to volatile social issues plaguing our world were opened: slavery; [non-gendered] suffrage; one-world government; humanity itself plus the narrowing bridge between man and machine, possibly even a parallel to the narrowing separation between pet and owner -- between man and animal. Eventually, the "special" robot named Andrew Martin (Robin Williams) developed a sense of individuality through reading and contemplation. After years of servitude as a "household appliance" the robot humbly demanded its freedom from servitude: its freedom from authority; its autonomy. Andrew felt it was more than a manufactured piece of property ... and the World Court agreed. The granting of human status by the World Court was rather plain and under-developed, but a point of god wannabe, of supreme authority was made.

Andrew searched years for others of its special intellect and found one in service to a gifted researcher who helped Andrew develop innovative living systems to give Andrew human appearance and emotions -- including sexual performance, of course. And why not? Full nudity in entertainment has oozed up from R to PG-13 and offensive language up from R and PG-13 to PG. Yes, you guessed right. *Bicentennial Man* presents not only repeated use of the three/four letter word vocabulary as a vent for impudence, it presents God's name in vain WITH the four letter expletive -- twice -- once in anger and once as a conversational snippet.

In the final scenes the elderly robot "died." Upon its "death" the woman who married the robot named Andrew said to it "See you soon" shortly after ordering her robot to shut off her life support systems. I guess the World Court must have somewhere ordered that Andrew also had a soul and granted it a claim to the Promise fo God, to the Heavenly inheritance of those who believe in the Precious Sacrifice of Jesus.

So many of our visitors seem to be relying only on this Summary/Commentary for a full assessment of this movie. This is not possible. For the best representation of the CAP Entertainment Media Analysis Model applied to this movie, visit the Findings/Scoring section below.



---
FINDINGS / SCORING: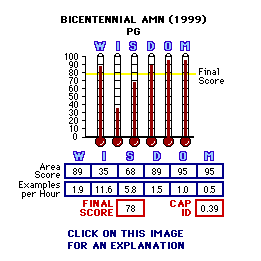 NOTE: Multiple occurrences of each item described below are likely.

Wanton Violence/Crime (W):

disembodied and talking head
death and dying

Impudence/Hate (I)(1):

14 uses of the three/four letter word vocabualry and in such a flippant way
teen and preteen arrogance against fair parental authority
rationalizing lying
a spiteful sexual comment to her mother
punk dress
"Sometimes it's better to do wrong things."
"In order to follow your heart, one must do wrong things."
flatulence

Sex/Homosexuality (S):

somewhat bold and descriptive discussion of sexual reproduction and mechanics
sex joke
inappropriate touch
gaping mouth kissing
sexual comment
sexual innuendo
excessive breast exposure
somewhat detailed discussion of sexual intercourse and orgasm
"You can go to heaven [have sex] and come back alive and go back any time you want."
man in bed with woman with covered nudity/implied intercourse

Drugs/Alcohol (D):

booze
drinking

Offense to God (O)(2):

two uses of God's name in vain with the four letter expeltive and four times without
court of man having authority to decide on human status
"See you soon" to a robot re: going to heaven after "death"

Murder/Suicide (M)(3):

assisted suicide