Become a CAPtain


with your
SPECIAL OFFER


From the runaway best-seller.
"I will violate my own
policy statement and urgently
recommend this film..."
-TC-




The foul language eliminator


Removes profanity from
movies and TV shows
Switch to LifeLine


for Christian
long distance service
The Family Friendly


Internet Service
A Christ Centered


Community Web Site
Comments?

Christian Media News
A Singles
Christian Network
Your One Stop


For Everything Christian
Free Email Ministry


Subscribe Today!!
PLEASE VOTE!


for this site!
Christian Banner eXchange
---
ALERT: To fully understand this report you should first visit the topics suggested by the CAP Table of Contents.

For FREE text-only versions of our media analysis reports as they are calculated, open this email then click "send." If your browser does not handle this URL format properly, send us a request to add you.
NOTE: The CAP Analysis Model makes no scoring allowances for trumped-up "messages" to excuse or for manufacturing of justification for aberrant behavior or imagery, or for camouflaging such ignominy with "redeeming" programming. Disguising sinful behavior in a theme or plot does not excuse the sinful behavior of either the one who is drawing pleasure from the sinful display or the practitioners demonstrating the sinful behavior. This is NOT a movie review service. It is a movie analysis service to parents and grandparents to tell them the truth about movies using the Truth. If you do not want the plot, ending, or "secrets" of a movie spoiled for you, skip the Summary/Commentary. In any case, be sure to visit the Findings/Scoring section -- it is purely objective and is the heart of the CAP Entertainment Media Analysis Model applied to this movie
"There are some in the entertainment industry who maintain that 1) violent programming is harmless because no studies exist that prove a connection between violent entertainment and aggressive behavior in children, and 2) young people know that television, movies, and video games are simply fantasy. Unfortunately, they are wrong on both accounts." [Emphasis is mine] And "Viewing violence may lead to real life violence." I aplaud these associations for fortifying 1 Cor. 15:33. Read the rest of the story. From our five-year study, I contend that other aberrant behaviors, attitudes, and expressions can be inserted in place of "violence" in that statement. Our Director - Child Psychology Support, a licensed psychologist and certified school psychologist concurs. For example, "Viewing arrogance against fair authority may lead to your kids defying you in real life." Or "Viewing sex may lead to sex in real life." Likewise and especially with impudence, hate and foul language. I further contend that any positive behavior can be inserted in place of "violence" with the same chance or likelihood of being a behavior template for the observer; of being incorporated into the behavior mechanics and/or coping skills of the observer. In choosing your entertainment, please consider carefully the "rest of the story" and our findings.
If Scriptural references appear, the full text appears at the end of the Summary / Commentary likely using a mix of KJV and NIV.
---


SUMMARY / COMMENTARY:

BEDAZZLED (PG-13) -- another "R-13" teen sex flick mocking God.

This is unfortunate, too. Brandon Fraser's artistic genius is darkened in the role of Elliot Richards, a man who sells his soul to Satan to get a woman [Matt. 16:26]. Inspired by the 1967 version, Bedazzled takes strong advantage of the post modernism lowered standards of acceptability for programming accessible to youth. Note that the vulgarities in this movie are described herein. In essence I am apologizing for the discussions herein, but how else am I to tell you the truth about Bedazzled?

Enamored by Allison Gardner (Frances O'Connor), a co-worker for four years, Elliot calls on God for help to get her but gets Satan (Elizabeth Hurley) instead [Ps. 145:18]. Elliot gets seven wishes in exchange for his soul. The first of his wishes was, as expected, was a trick. Elliot mumbled rhetorically he wished for a Big Mac and Coke. So, Satan takes him to MacDonald's -- in a cab, and Elliot pays for his meal. Wish number 1 down the tubes. All other wishes except for one yield the same trickery and treachery of Satan. Each with the impression of a business deal.

As soul contract negotiations proceed Hurley, while straddling a chair in her office to sit down as a stereotyped jock might do, shows us how high up the slit in the front of her dress goes -- with nothing on underneath. It was a flash exposure that typically leaves much to the imagination, but imagination is overruled in this case. Even if the actress was actually wearing something under the dress, the impression given is enough. Even the "Oh's" from the audience tell me how much she was wearing -- or was not wearing [2 Sam. 6:20]. It's PG-13, folks! Rather, R-13. Vulgarity and obscenity are fair game for PG-13s nowadays.

Elliot wished for a number of personalities and lives, each intended to win the heart of Allison. One of the wishes makes him a drug lord with megabucks and power and Allison as his [cheating] wife. But as is the case with crime and evil, someone is always standing in the wake to take over. And that's what happens to his drug regime. Another character Elliot is changed into is a towering NBA star, gigantic in every way. Allison is a reporter in this "life" and follows Elliot into the locker room to beg for a glimpse of him expecting all of him to be gigantic. And he shows her, masked from view by the audience, fortunately, but not from O'Connor [2 Sam. 6:20]. But Allison walks out. Another character Elliot assumes is into a world-changing, magnanimous leader type to impress Allison. But Satan changes him into Abraham Lincoln with Allison as his wife. And we all know what happened to Lincoln. Another character Elliot becomes is that of an ultra-sensitive wimp who bawls at sunsets. In this "life" Allison becomes one who wants to be abused and is "stolen" from Elliot by some beach bullies.

As the number of wishes dwindle, Satan keeps reminding Elliot of his obligation to the contract. Then as the last wish comes, Satan gets a little ahead of herself and starts to drag Elliot down with her. But then, Elliot pulls a fast one -- he wishes for Allison to have happy life. Boom! That blew the contract out of the water. There is a clause if even one of the wishes is unselfish, the contract becomes null and void. So, Elliot is safe and Satan is thwarted by a mere mortal. The same old story -- and the same old lie. Never are we to tempt or challenge Satan for any reason. For to do so is to take away our focus on Jesus. His power is second only to that of God. While we as Christians are protected from eternal damnation by the Victory of Jesus Christ at Calvary [Luke 23:33-46], we may from time to time have to suffer Satan's attacks or the shrapnel of his attacks on the unsaved. To tempt or challenge Satan is stupid.



ooooooooooooooooooooooooooooooooo



1 Cor. 15:33 (KJV) Be not deceived: evil communications corrupt good manners. (NIV) Do not be misled: Bad company corrupts good character.
Matt. 16:26 What good will it be for a man if he gains the whole world, yet forfeits his soul? ...
Ps. 145:18 The LORD is near to all who call on him, to all who call on him in truth.
2 Sam. 6:20 When David returned home to bless his household, Michal daughter of Saul came out to meet him and said, "How the king of Israel has distinguished himself today, disrobing in the sight of the [handmaids] of his servants as any vulgar fellow would! (The admonishment of this against vulgarity applies to both genders.)
Luke 23:33-46 "When they came to the place called the Skull (Calvary), there they crucified him, along with the criminals -one on his right, the other on his left. Jesus said, "Father, forgive them, for they do not know what they are doing." And they divided up his clothes by casting lots. The people stood watching, and the rulers even sneered at him. They said, "He saved others; let him save himself if he is the Christ of God, the Chosen One." The soldiers also came up and mocked him. They offered him wine vinegar and said, "If you are the king of the Jews, save yourself." There was a written notice above him, which read: THIS IS THE KING OF THE JEWS. One of the criminals who hung there hurled insults at him: "Aren't you the Christ? Save yourself and us!" But the other criminal rebuked him. "Don't you fear God," he said, "since you are under the same sentence? We are punished justly, for we are getting what our deeds deserve. But this man has done nothing wrong." Then he said, "Jesus, remember me when you come into your kingdom. " Jesus answered him, "I tell you the truth, today you will be with me in paradise." It was now about the sixth hour, and darkness came over the whole land until the ninth hour, for the sun stopped shining. And the curtain of the temple was torn in two. Jesus called out with a loud voice, "Father, into your hands I commit my spirit." When he had said this, he breathed his last."

While on the Cross Jesus took in Himself all our sins, past present and future, and became sin that we may be clean. In fulfillment of the Law of sin, Jesus spent three days after His Death in Hell -- separated from the Father -- so you and I would not have to spend one instant there. On the third day Jesus rose from the Tomb, victorious over Satan and spiritual death. All praise and glory and thanks to God forever! During Jesus' temporary visit to Hell in order to save us from our sins -- to pay our debt -- I can just envision Jesus leading Satan around by a leash with his "pointed tail" between his legs.



ooooooooooooooooooooooooooooooooo



As always, it is best to refer to the Findings/Scoring section -- the heart of the CAP analysis model -- for the most complete assessment possible of this movie.



---
FINDINGS / SCORING: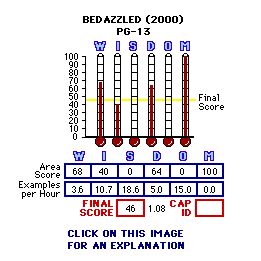 NOTE: Multiple occurrences of each item described below may be likely, definitely when plural.

Wanton Violence/Crime (W):

firearms
gunfire to kill
many deaths (unseen) by explosion/fire
physical aggression to stop insults

Impudence/Hate (I)(1):

11 uses of the three/four letter word vocabulary
vulgar gesture
"Don't be afraid to explore new horizons." as a temptation to submit to Satan
portrayal of nihilism being desirable
"We're all doomed anyway."

Sex/Homosexuality (S):

sexual innuendo, talk, comments and insults
sucking kissing
excessive cleavage
sexual billboard
brief crotch nudity - female
picture nudity
inappropriate touch
exposing male privates to a female
dressing to maximize female form and/or skin exposure
homosexuality

Drugs/Alcohol (D):

social and recreational drinking
sex bar
smoking
drug regime

Offense to God (O)(2):

calling on God and getting Satan
woman claiming to be Satan
bartering for soul
glorification of Satan
Italian horn pendant
encouraging sin
"I have an earthquake in 8 minutes." by "Satan"
witchcraft manipulations
evil symbolism
secular humanism = "yummy"
plethora of mockery of God, holiness, Salvation
mockery and counterfeiting of the Truth

Murder/Suicide (M)(3):