Become a CAPtain


with your
A Christ Centered


Community Web Site
Comments?

Christian Media News
A Singles
Christian Network
PLEASE VOTE!


for this site!
---

ALERT: To fully understand this report you should first visit the topics
suggested by the CAP Table of Contents.



SUMMARY / COMMENTARY:

*Bats* (PG-13) -- Scientists create a special breed of bats -- bred to kill.

And kill they do, first a couple beer-drinking teenagers, then just about everybody else. Lou Diamond Phillips, with the same mouth as always, is the sheriff trying to make sense of it all and to build a campaign to destroy the bats. Nested in an old mine, the bats roamed to scour the countryside for anything that was alive: pets - cattle - people. Lots of bat attacks -- big ugly demon-looking bats reminiscent of gargoyles. Lots of deaths by animal attack. Lots of chomping. Lots of blood. And all the gore of animal and human remains. A very violent movie. [Luke 3:14]

The matter of sexual programming was a simple episode of camera angle clearly focusing the viewer on private parts and a some innuendoes. No nudity. Drinking and booze bravado was present but no obvious drunkenness. And no murders or suicides at all.

But language was a serious problem with this movie. Fifty-two uses of the three/four letter word vocabulary. Yes, the most foul of foul words was there in this PG-13, only once but there nonetheless. And God's name in vain was there 14 times, three with the four letter expletive. So, profane language is evidently no longer justification for the R-rating.

In numeric comparison with movies of 1995 to 1996, with such saturation of violence and gore plus the ton of foul language *Bats* clearly should have been rated R. R-rated movies of that time -- just three and four years ago -- earned CAP final scores of 54 and below. *Bats* earned a 47. Also clearly, the Motion Picture Association of America thinks it is okay for your 13-year old kids to be exposed to such language. Well, in accordance with the Scriptures, it is not okay. [Exod. 20:7, Matt. 12:36-37, Mark 7:15, Mark 7:20, and the clincher Luke 17:2.]

So many of our visitors seem to be relying only on this Summary/Commentary for a full assessment of this movie. This is not possibble. For the best representation of the CAP Entertainment Media Analysis Model applied to this movie, visit the Findings/Scoring section below.



---
FINDINGS / SCORING: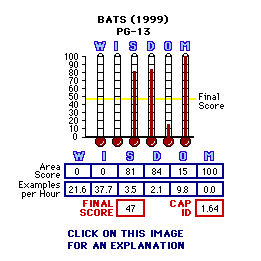 NOTE: Multiple occurrences of each item described below are likely.

Wanton Violence/Crime (W):

many animal attacks with blood, gore, screaming, and violence
disaster mayhem
many dead bodies
firearms to control /intimidate
urgency in escape

Impudence/Hate (I)(1):

52 uses of the three/four letter word vocabulary
One use of the most foul of the foul words

Sex/Homosexuality (S):

camera angle to force viewer onto private parts
sexual innuendo

Drugs/Alcohol (D):

teens in possession of alcohol with intent to consume
drinking to ease tension = "Texas custom"
promise of alcohol to celebrate

Offense to God (O)(2):

14 uses f God's name in vain, 3 with the four letter expletive

Murder/Suicide (M)(3):

none noted