Become a CAPtain


with your
SPECIAL OFFER


From the runaway best-seller.
"I will violate my own
policy statement and urgently
recommend this film..."
-TC-




The foul language eliminator


Removes profanity from
movies and TV shows
Switch to LifeLine


for Christian
long distance service
The Family Friendly


Internet Service
A Christ Centered


Community Web Site
Comments?

Christian Media News
A Singles
Christian Network
Your One Stop


For Everything Christian
Free Email Ministry


Subscribe Today!!
Christian Banner eXchange
---
ALERT: To fully understand this report you should first visit the topics suggested by the CAP Table of Contents.

For FREE text-only versions of our media analysis reports as they are calculated, open this email then click "send." If your browser does not handle this URL format properly, send us a request to add you.
NOTE: The CAP Analysis Model makes no scoring allowances for trumped-up "messages" to excuse or for manufacturing of justification for aberrant behavior or imagery, or for camouflaging such ignominy with "redeeming" programming. Disguising sinful behavior in a theme or plot does not excuse the sinful behavior of either the one who is drawing pleasure from the sinful display or the practitioners demonstrating the sinful behavior. This is NOT a movie review service. It is a movie analysis service to parents and grandparents to tell them the truth about movies using the Truth. If you do not want the plot, ending, or "secrets" of a movie spoiled for you, skip the Summary/Commentary. In any case, be sure to visit the Findings/Scoring section -- it is purely objective and is the heart of the CAP Entertainment Media Analysis Model applied to this movie
"There are some in the entertainment industry who maintain that 1) violent programming is harmless because no studies exist that prove a connection between violent entertainment and aggressive behavior in children, and 2) young people know that television, movies, and video games are simply fantasy. Unfortunately, they are wrong on both accounts." [Emphasis is mine] And "Viewing violence may lead to real life violence." I aplaud these associations for fortifying 1 Cor. 15:33. Read the rest of the story. From our five-year study, I contend that other aberrant behaviors, attitudes, and expressions can be inserted in place of "violence" in that statement. Our Director - Child Psychology Support, a licensed psychologist and certified school psychologist concurs. For example, "Viewing arrogance against fair authority may lead to your kids defying you in real life." Or "Viewing sex may lead to sex in real life." Likewise and especially with impudence, hate and foul language. I further contend that any positive behavior can be inserted in place of "violence" with the same chance or likelihood of being a behavior template for the observer; of being incorporated into the behavior mechanics and/or coping skills of the observer. In choosing your entertainment, please consider carefully the "rest of the story" and our findings.
If Scriptural references appear, the full text appears at the end of the Summary / Commentary likely using a mix of KJV and NIV.
---


SUMMARY / COMMENTARY:

THE LEGEND OF BAGGER VANCE (PG-13) -- definitely NOT a R-13.

Will Smith in the role of a wise sage? He has been just about everything else and now filmmakers and writers are trying to make him a wise and noble mentor. And he was good at it. Very good. Smith gave us a warm and very touching performance as Bagger Vance, an itinerant drifter who became the mentor of Rannulph Junuh (Matt Damon). Bagger just appeared, did his job, then left. Not to be seen again for about 60 years, apparently still a young man. Was Bagger an angel? Robert Redford, the director, never told us. Bagger was the best thing that ever happened to Junuh.

The Legend of Bagger Vance, while definitely equivalent to R-rated flicks in language and drugs/alcohol, was in everything else G or PG in comparison to the 39 movies in the CAP developmental comparative baseline database of movies -- definitely NOT a R-13. Indeed, the final score of 69 puts this movie two points into the 18-point scoring cell for PG movies in the CAP comparative baseline database, two points above the upper cell boundary (67) for PG-13 movies.

The Legend of Bagger Vance is another very good example of the utility of the CAP Entertainment Media Analysis Model to objectively reveal to parents and grandparents -- both visually and numerically -- the distribution of entertainment ignominy in a way no other movie analysis or review service can. Several folks are trying to duplicate and even create parodies of the CAP model. They may look like the CAP model on the surface, but they cannot duplicate the intricate mathematical model that gives you the 5-year proven reliability and consistency of the CAP scoring system. A website that is under construction is www.capreports.com and states "Welcome to our new internet domain!" Though it uses "capreports" as its domain, it is NOT a CAP ministry service and they cannot give you true cap reports unless they copy our reports and post them on their site. Another movie review service for parents, also younger than the CAP ministry, has apparently plagiarized the CAP model. Clearly, it sounds as though I am drifting but I say these things for a reason -- to let those to whom such should be legally important that the CAP model, methodology and everything else with CAP on it is copyrighted and registered.

Since he was 16 years old, Rannulph Junuh was a success at golf. Having won just about every golf thing there was to win in Savannah, Georgia, Rannulph was apparently on his way to becoming a golf legend. But World War I had other plans for him. After his entire Army company were killed Captain Junuh, apparently a hero, lost something. Drive? Ability to care? For 10 years Junuh drank and gambled [Prov. 23:21]. Whatever it was he lost, it destroyed his greatness in golf ... until Bagger came along.

When the Great Depression hit, rich daddy Invergordon sank his last dollar into building the greatest of golf courses, expecting it to take hold and make money. But alas, it does not. And comes part of the ignominy -- he kills himself. This leaves his adult daughter Adele (Charlize Theron) to fend for herself. And that she does. She risks everything she owns of the estate -- about $10,000 worth of possessions -- and coordinates an exhibition golf tournament and invites the two greatest golfers, Walter Hagen (Bruce McGill) and Bobby Jones (Joel Gretsch) to play in the exhibition. To bolster local support and spirit, using everything she has to offer as a woman [1Cor. 10:8] she convinces Rannulph Junuh to play. While Rannulph slugs some golf balls into the dark of night in attempts to recapture that which the war and 10 years of drinking and gambling stole, Bagger enters and the story takes off from there.

There is much this movie has to offer as a masterpiece of the performing arts. Too bad some of it has to be what the Bible calls filthy language [Col. 3:8] and immoral/impure behavior [Eph. 5:5]. That "people are that way" does not excuse the sinfulness of such choices of behavior nor serving them up as entertainment. And *please* do not think me condescending or "holier than thou." I, too, am a sinner -- there is no hypocrisy here. I am simply sharing His Word, His teachings and expectations with you. I didn't write the Rules, I am just repeating them and they apply to me as much as they apply to you. Replaying the movie in my mind, I can find absolutely no use for any of the bad stuff. The foul language was useless -- it added no more to the play than would leaving it out subtract [Col. 4:6]. There was no use for the attempts of Adele to use sex [1Ths. 4:3], in front of a young boy no less [Luke 17:2], to coerce Rannulph to play in the tournament, or for their sexual antics in daddy's house. Adele and Rannulph could have been portrayed in love without the sex. And what, besides the movies, is to say that love requires sex? The smoking, drinking and drunkenness did absolutely nothing for the theme, plot or delivery other than Junuh's plight for 10 years. We didn't watch or follow him for ten years. Saying it would have been quite enough. There is more to the ignominy of this movie, but I will leave that to the listing in the Findings/Scoring section -- the heart of the CAP analysis model.



ooooooooooooooooooooooooooooooooo



1 Cor. 15:33 (KJV) Be not deceived: evil communications corrupt good manners. (NIV) Do not be misled: Bad company corrupts good character.
Prov. 23:21 For the drunkard and the glutton shall come to poverty:...
1Cor. 10:8 We should not commit sexual immorality, as some of them did -and in one day twenty-three thousand of them died.
Col. 3:8 But now you must rid yourselves of all such things as these: anger, rage, malice, slander, and filthy language from your lips.
Eph. 5:5 For of this you can be sure: No immoral, impure or greedy person -such a man is an idolater -has any inheritance in the kingdom of Christ and of God.
Col. 4:6 Let your speech be alway with grace, seasoned with salt, that ye may know how ye ought to answer every man.
1Ths. 4:3 It is God's will that you should be sanctified: that you should avoid sexual immorality;
Luke 17:2 It would be better for him to be thrown into the sea with a millstone tied around his neck than for him to cause one of these little ones to sin.



ooooooooooooooooooooooooooooooooo



As always, it is best to refer to the Findings/Scoring section -- the heart of the CAP analysis model -- for the most complete assessment possible of this movie.



---
FINDINGS / SCORING: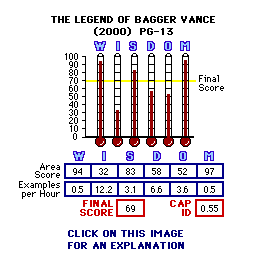 NOTE: Multiple occurrences of each item described below may be likely, definitely when plural.

Wanton Violence/Crime (W):

battle sequence with gore of war death

Impudence/Hate (I)(1):

21 uses of the three/four letter word vocabulary
offer to lie
adolescent hatefulness to his father
a child offering to lie so an adult would not have to tell the truth

Sex/Homosexuality (S):

sneaking off for sex in dad's house
man and woman in bed undressing each other to underwear
sex talk and comments
offer of sex in front of a child
stripping to underwear for sex in view of a child

Drugs/Alcohol (D):

smoking
booze
drinking
drunkenness

Offense to God (O)(2):

four uses of God's name in vain with the four letter expletive and three without

Murder/Suicide (M)(3):