Become a CAPtain


with your
The foul language eliminator


Removes profanity from movies and TV shows
A Christian Family


Internet Network Cooperative
A Christ Centered


Community Web Site
Comments?

Christian Media News
A Singles
Christian Network
PLEASE VOTE!


for this site!
---

ALERT: To fully understand this report you should first visit the topics
suggested by the CAP Table of Contents.



SUMMARY / COMMENTARY:

*The Bachelor* (PG-13) -- lots of language and sexual matters.

PG movies of 1995 and 1996 earned scores from 86 to 68. *The Bachelor* earned a CAP Final Score of 71. Very little violence/crime. No drugs/alcohol. And no murder/suicide. But it did have foul language and sexual matters equivalent to R-rated programming of 1995/96 if in numbers only. Thus evidence of another very useful feature of the CAP Entertainment Media Analysis Model.

Three of the most foul of the foul words, 20 uses of the three/four letter word vocabulary, plus 14 uses of God's name in vain, four of them with the four letter expletive. Get one of the Curse Free TV units and the CAP Final Score would raise from 71 to 88 and the CAP Influence Density would improve from 0.55 to 0.22.

Regarding the sexual programming, while there was no nudity noted, there was enough dialogue and imagery to further the general decay of inhibition and standards of acceptance. There was a lot of excessive breast and upper leg exposure that is not commonplace in the "real world" except in entertainment. And several references to male and female anatomy with clear intent peppered the script.

We continue to get evidence that our visitors seem to be relying only on this Summary/Commentary for a full accounting of the subject movie. This is not possible. For the best representation of the CAP Entertainment Media Analysis Model applied to this movie, visit the Findings/Scoring section from Full Report below.



---
FINDINGS / SCORING: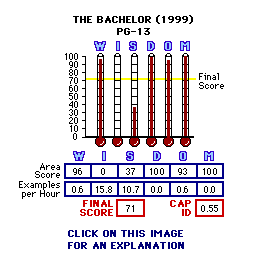 NOTE: Multiple occurrences of each item described below are likely.

Wanton Violence/Crime (W):

reckless driving

Impudence/Hate (I)(1):

3 uses of the most foul of the foul words
20 uses of the three/four letter word vocabulary
punk dress and attitude
lies

Sex/Homosexuality (S):

gamming (maximizing exposure of upper underside of the female leg)
references to male anatomy
references to female anatomy
admission of sexual immorality
sex talk
excessive breast exposure
ghosting of female anatomy through thin clothing
adult in underwear
vulgar self-touching

Drugs/Alcohol (D):

none noted

Offense to God (O)(2):

"Thank God I'm bisexual"
God's name in vain 14 times, four with the four letter expletive

Murder/Suicide (M)(3):

none noted