Become a CAPtain


with your
The foul language eliminator


Removes profanity from
movies and TV shows
Switch to LifeLine


for Christian
long distance service
CloseoutVideo.Com


Absolute lowest price
videos/DVDs inthe world
guaranteed!
The Family Friendly


Internet Service
A Christ Centered


Community Web Site
Comments?

Christian Media News
A Singles
Christian Network
Your One Stop


For Everything Christian
Free Email Ministry


Subscribe Today!!
PLEASE VOTE!


for this site!
Christian Banner eXchange
---
ALERT: To fully understand this report you should first visit the topics suggested by the CAP Table of Contents.

For FREE text-only versions of our media analysis reports as they are calculated, open this email then click "send." If your browser does not handle this URL format properly, send me a request to add you.
NOTE: We make no scoring allowances for Hollywood's trumped-up "messages" to excuse, or its manufacturing of justification for aberrant behavior or imagery. This is NOT a movie review service. It is a movie analysis service to parents and grandparents to tell them the truth about movies using the Truth. If you do not want the plot, ending, or "secrets" of a movie spoiled for you, skip the Summary/Commentary. In any case, be sure to visit the Findings/Scoring section -- it is purely objective and is the heart of the CAP Entertainment Media Analysis Model applied to this movie
On July 26, 2000 the American Medical Association, the American Psychological Association, the American Academy of Pediatrics, and the American Academy of Child & Adolescent Psychiatry released a joint statement regarding the dangers of violence in entertainment. I applaud these associations for fortifying 1 Cor. 15:33. An exceptionally important statement in the release that deserves your earnest attention is "There are some in the entertainment industry who maintain that 1) violent programming is harmless because no studies exist that prove a connection between violent entertainment and aggressive behavior in children, and 2) young people know that television, movies, and video games are simply fantasy. Unfortunately, they are wrong on both accounts." [Emphasis is mine] Another statement in the report is "Viewing violence may lead to real life violence." From our five-year study, I contend that other aberrant behaviors, attitudes, and expressions can be inserted in place of "violence" in that statement. Our Director - Child Psychology Support, a licensed psychologist and certified school psychologist concurs. For example, "Viewing arrogance against fair authority may lead to your kids defying you in real life." Or "Viewing sex may lead to sex in real life." Likewise and especially with impudence, hate and foul language. I further contend that any positive behavior can be inserted in place of "violence" with the same chance or likelihood of being a behavior template for the observer; of being incorporated into the behavior mechanics and/or coping skills of the observer. In choosing your entertainment, please consider carefully the joint statement and our findings.
If Scriptural references appear, the full text appears at the end of the Summary / Commentary likely using a mix of KJV and NIV.
---


SUMMARY / COMMENTARY:

Autumn in New York (PG-13) -- but barely a PG-13.

A thorough romantic tragedy. Well written. Well performed. A borderline PG-13, right on the cell boundary between PG and PG-13. Though the chemistry was just not there between Winona Ryder and Richard Gere, the total package was touching and warm, but ridden with sexual immorality without the nudity. Ryder played Charlotte Fielding, a 22 year old heart patient who did very well in portraying the flippant and somewhat carefree character of youth, maybe too well. Gere portrayed Will Keane, an o-l-d womanizing man of 48 (actually, he's 50 and she's 28) who fell in love with Charlotte after a managed meeting through her sweet but crusty old alcoholic [Eph. 5:18], abrasively explosive and just as loud grandmother (Elaine Stritch). The grandmother is a close friend of Charlotte's mother and by that relationship a "dear friend" of Keane. Charlotte is the daughter of "a previous conquest" of Keane. And Keane's daughter, from what relationship I could not tell, looked to be older than Charlotte. But, of course, redemption was found at the end of the show as father and daughter made up with his granddaughter, a few months old, in his lap -- in a row boat. What a place for an infant.

In the managed meeting in his restaurant, Keane and Fielding start making eyes at each other, his eyes a little more hungry but more evasive from experience than her big browns. From there, the "cradle-robbing" romance begins. And, with the sex-ridden romances of these times this one is no different except maybe in the amount of skin shown [Hebr. 13:4]. While there was casual sex and bedroom intimacy with heavily implied nudity in this movie, there was no observable nudity noted. Hurrah for this PG-13 with no nudity! Well, maybe no hurrah. Premarital sex is still sinful whether shown onscreen or not or whether nudity is shown or not. Even if Gere and Ryder were married, even if married in real life, it is not for 200 million viewers [Eph. 5:3]. There are many admonishments about sexual misconduct in the Bible. They may be summed up as ANY sexual contact (including visual), conduct, or activity outside of a monogamous heterosexual marriage is sinful. And for our adversaries who like to challenge the Word, Ex. 22:16 does NOT say it is okay to have sex if you are going to get married. It says don't, but if you do you better get married because as far as morality goes you ARE married if you do the deed. From where do you think the Common Law marriage came? Hey! I didn't write the Rules. Don't shoot the messenger.

Language, sex, and booze were the only reasons this movie was unfit. Yes, the most foul of the foul words was there -- twice [Col. 4:6]. God's name in vain was there -- 11 times [Exod. 20:7]. The three/four letter word vocabulary was there -- 10 times [Col. 3:8]. And while the booze and drinking were just "social" imbibings, if entertainment booze is not a problem, why is there and has there been such a push to get booze commercials off prime time TV?



ooooooooooooooooooooooooooooooooo



(KJV) 1 Cor. 15:33 Be not deceived: evil communications corrupt good manners. (NIV) Do not be misled: Bad company corrupts good character.
Eph. 5:18 And be not drunk with wine, wherein is excess; but be filled with the Spirit;...
Hebr. 13:4 Marriage should be honored by all, and the marriage bed kept pure, for God will judge the adulterer and all the sexually immoral.
Eph. 5:3 But among you there must not be even a hint of sexual immorality, or of any kind of impurity, or of greed, because these are improper for God's holy people.
Ex. 22:16 And if a man entice a maid that is not betrothed, and lie with her, he shall surely endow her to be his wife.
Col. 4:6 Let your speech be alway with grace, seasoned with salt, that ye may know how ye ought to answer every man.
Exod. 20:7 You shall not misuse the name of the LORD your God, for the LORD will not hold anyone guiltless who misuses his name.
Col. 3:8 But now ye also put off all these; anger, wrath, malice, blasphemy, filthy communication out of your mouth.



ooooooooooooooooooooooooooooooooo




As always, it is best to refer to the Findings/Scoring section -- the heart of the CAP analysis model -- for the most complete assessment possible of this movie.



---
FINDINGS / SCORING: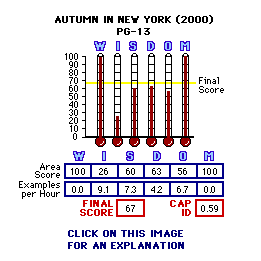 NOTE: Multiple occurrences of each item described below may be likely.

Wanton Violence/Crime (W):

none noted

Impudence/Hate (I)(1):

two uses of the most foul of the foul words
ten uses of the three/four letter word vocabulary
several lies if even to "rescue"

Sex/Homosexuality (S):

open mouth kissing
cohabitation
intercourse aftermath
excusing casual, immoral sex as "nothing"
speaking of sexual relationships as if as important and with as much respect for sex as if some got on the chin after blowing the nose
gigolo behaviors breaching adultery
intercourse without nudity
man/woman in bed

Drugs/Alcohol (D):

smoking
booze
drinking
drunkenness

Offense to God (O)(2):

God's name in vain once with the four letter expletive and 10 times without

Murder/Suicide (M)(3):