Become a CAPtain


with your
A Christ Centered


Community Web Site
Comments?

Christian Media News
A Singles
Christian Network
PLEASE VOTE!


for this site!
ALERT: To fully understand this report you should first visit the topics
suggested by the CAP Table of Contents.



SUMMARY / COMMENTARY:

It has been 16 days since I watched this movie. I cannot remember enough of it to give you a summary/commentary. It must have been a forgettable movie. All I can remember is that while in space a couple astronauts are possessed by some aliens who then impregnate the wives of the hosts with alien seed. One of the wives commits suicide by electrocution.

This time I'll have to ask you to trust the heart of the CAP Entertainment Media Analysis Model -- the Findings/Scoring section below.



---
FINDINGS / SCORING: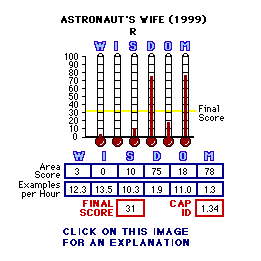 NOTE: Multiple occurrences of each item described below are likely.

Wanton Violence/Crime (W):

doom violence
violent convulsions of a heart attack
talk of threatening another
marital violence
death after self-inflicted facial injury
series of bizarre imagery and perceptive distortions
flashes of suicide death
nightmarish presentations
a child's story of rape, murder and suicide
throwing glass in anger
violent imagery
abetting and admission of chemical abortion
wife beating and threat
fall down stairs by pregnant woman
graphic murder
leaving a cab without paying the fare
threat of suicide for self protection

Impudence/Hate (I)(1):

8 uses of the most foul of the foul words
13 uses of the three/four letter word vocabulary
"It's not as if any of this [abortion] means anything"
hateful shouting

Sex/Homosexuality (S):

woman on man in bed (covered)
frolicking in bed nude (covered)
camera angle to force viewer on private parts
ghosting of female anatomy through clothing
inappropriate touch
series of sexual intercourse (masked but all motions and sounds present)
partial nudity and brief nudity
man giving a woman a bath and flashes of it
sex talk and vulgar talk
series of flashbacks of violent sexual intercourse

Drugs/Alcohol (D):

booze
drinking
drunkenness

Offense to God (O)(2):

two uses of God's name in vain with the four letter expletive and 13 without it plus two uses of our Savior's name in vain
talk of seeing friends dead
evil background voices
bizarre talk of "He's inside me!"
unholy possession

Murder/Suicide (M)(3):

suicide by electrocution
murder by electrocution