Become a CAPtain


with your
SPECIAL OFFER


From the runaway best-seller.
The foul language eliminator


Removes profanity from
movies and TV shows
Switch to LifeLine


for Christian
long distance service
CloseoutVideo.Com


Absolute lowest price
videos/DVDs inthe world
guaranteed!
The Family Friendly


Internet Service
A Christ Centered


Community Web Site
Comments?

Christian Media News
A Singles
Christian Network
Your One Stop


For Everything Christian
Free Email Ministry


Subscribe Today!!
PLEASE VOTE!


for this site!
Christian Banner eXchange
---
ALERT: To fully understand this report you should first visit the topics suggested by the CAP Table of Contents.

For FREE text-only versions of our media analysis reports as they are calculated, open this email then click "send." If your browser does not handle this URL format properly, send us a request to add you.
NOTE: We make no scoring allowances for Hollywood's trumped-up "messages" to excuse, or its manufacturing of justification for aberrant behavior or imagery. This is NOT a movie review service. It is a movie analysis service to parents and grandparents to tell them the truth about movies using the Truth. If you do not want the plot, ending, or "secrets" of a movie spoiled for you, skip the Summary/Commentary. In any case, be sure to visit the Findings/Scoring section -- it is purely objective and is the heart of the CAP Entertainment Media Analysis Model applied to this movie
On July 26, 2000 the American Medical Association, the American Psychological Association, the American Academy of Pediatrics, and the American Academy of Child & Adolescent Psychiatry released a joint statement regarding the dangers of violence in entertainment. I applaud these associations for fortifying 1 Cor. 15:33. An exceptionally important statement in the release that deserves your earnest attention is "There are some in the entertainment industry who maintain that 1) violent programming is harmless because no studies exist that prove a connection between violent entertainment and aggressive behavior in children, and 2) young people know that television, movies, and video games are simply fantasy. Unfortunately, they are wrong on both accounts." [Emphasis is mine] Another statement in the report is "Viewing violence may lead to real life violence." From our five-year study, I contend that other aberrant behaviors, attitudes, and expressions can be inserted in place of "violence" in that statement. Our Director - Child Psychology Support, a licensed psychologist and certified school psychologist concurs. For example, "Viewing arrogance against fair authority may lead to your kids defying you in real life." Or "Viewing sex may lead to sex in real life." Likewise and especially with impudence, hate and foul language. I further contend that any positive behavior can be inserted in place of "violence" with the same chance or likelihood of being a behavior template for the observer; of being incorporated into the behavior mechanics and/or coping skills of the observer. In choosing your entertainment, please consider carefully the joint statement and our findings.
If Scriptural references appear, the full text appears at the end of the Summary / Commentary likely using a mix of KJV and NIV.
---


SUMMARY / COMMENTARY:

The Art of War (R) -- or "The 'Art' of R."
This movie is a few hundred feet of violence and murder. While Wesley Snipes certainly seemed a little more mature, talented and intelligent in The Art of War there is little consolation in it. No intelligence is needed. The observer does not have time to think -- s/he is saturated with exceptionally cold violence and nihilistic attitude toward murder and assault.

Special United Nations Agent Neil Shaw (Wesley Snipes) conducts espionage to steal intellectual property during Y2K celebration revelry in Hong Kong. High tech and high risk maneuvers abound. As part of the plot to expose the political underhandedness of a high ranking North Korean military man who, amid the revelry, was immorally involved with a young girl. After beating the stuffings out of about a thousand Chinese "bad guys", Shaw jumps out of the building with a parachute while being pelted with automatic gunfire, shredding his chute, landing atop a parade dragon. All is well, though because Shaw and his cohorts were successful in stealing vital information to blackmail principals to sit down at the negotiations table to put to rest trade hostilities. And, of course, UN Secretary-General Thomas and his top aide Eleanor Hooks (Anne Archer) know nothing of all this (if asked about it).

Moving the scene to New York City, about twenty dead decaying bodies of Chinese are found in a steel cargo canister at the New York dock which brings in FBI agent Frank Capella (Maury Chaykin). Later, Shaw is blamed for the assassination of UN Ambassador from China and interpreter Julia Fang (Marie Matiko) is pulled into the fray -- she is the only one who saw Shaw chasing the murderer.

Capella is obsessed with finding and apprehending Shaw as a fellow lawman gone bad. But that can't stop all the professional camaraderie. When Capella finally gets his claws on Shaw, Shaw pulls some antics to gain freedom. Though Shaw is innocent, rightful and due process does not know that. Yes, this is a story of how sometimes it is necessary to defy the law -- a good way to get killed even of you are in the right. Shaw even shows nice-nice to Capella when Shaw hands Capella's gun back but only as he releases the ammo clip to the ground knowing Capella is too fat to bend over and pick it up.

Many scenes came very close to making no sense, but the ending scenes made none at all. Shaw submits to the NYPD by inciting them to open fire at him. With bullets hitting him and dragging off pounds of flesh and blood, the implication is strong that he dies. Being an ex-medic I can say that if the gunfire injuries Shaw suffered were real, the injuries were not compatible with life. But the next scene shows him "getting the girl" (Julia Fang) in a French cafe.

The rest of the show is a 'thousand' episodes of violent maneuverings and manipulations interrupted for a few minutes with vulgar strip dancing and pornographic activities on the closed circuit TV monitors in a no-tell hotel. The Art of War is one of the "hardcore" R movies. A zero CAP score in all investigation areas but Drugs/Alcohol which earned a 71, each of 100 starting points. That means, as I know you can understand, this movie is all bad. I will leave the particulars to the Findings/Scoring section -- the heart of the CAP Entertainment Media Analysis Model. And the one verse which seems to encompass the most of the ignominies in this flick is Rom. 13:9}. To list all applicable Scriptures would require more space than the report itself.



ooooooooooooooooooooooooooooooooo



1 Cor. 15:33 (KJV) Be not deceived: evil communications corrupt good manners. (NIV) Do not be misled: Bad company corrupts good character.
Rom. 13:9 For this, Thou shalt not commit adultery, Thou shalt not kill, Thou shalt not steal, Thou shalt not bear false witness, Thou shalt not covet; and if there be any other commandment, it is briefly comprehended in this saying, namely, Thou shalt love thy neighbour as thyself.



ooooooooooooooooooooooooooooooooo



As always, it is best to refer to the Findings/Scoring section -- the heart of the CAP analysis model -- for the most complete assessment possible of this movie.



---
FINDINGS / SCORING: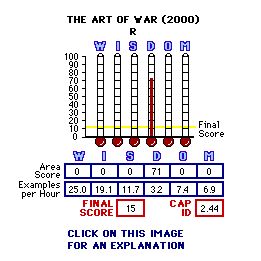 NOTE: Multiple occurrences of each item described below may be likely, definitely when plural.

Wanton Violence/Crime (W):

precarious balancing atop a very tall building
theft of intellectual property
several long series of fighting
multiple episodes of automatic and semiautomatic gunfire to kill, some with gunfire injuries
perilous jump
multiple dead and decaying bodies
strangulation attack
murder victim with a bullet hole in his forehead plus additional murder victims, many very graphic
several episodes of attempted multiple murder
attempted vehicular murder
vehicular death
violent abduction
firearm threats to the head and neck
breaking and entering
bloody and disfiguring beatings to torture
possession of illegal firearms
theft of firearms
several graphic flashbacks of episodes of violence
murder victims
attempted murder by explosion
control with firearms
political corruption
illegal confinement
planning murder
digging into injury flesh
stalking
man striking a woman to unconsciousness
a stand-out long and exceptionally graphic sequence of fighting, ending in death
inciting legal gunfire to commit suicide

Impudence/Hate (I)(1):

14 uses of the most foul of the foul words
22 uses of the three/four letter word vocabulary

Sex/Homosexuality (S):

adult male positioning for oral sex by a young girl
dressing to maximize the female form and/or skin exposure
sexual innuendo
suggestive eye movement
flash nudity
full nudity, multiple
partial nudity, multiple
intercourse with nudity on closed circuit TV

Drugs/Alcohol (D):

party booze
smoking
illegal drug consumption

Offense to God (O)(2):

3 uses of God's name in vain with the four letter expletive and 4 uses without
nude picture of a female dangling in front of a statue of Jesus on a car dash board

Murder/Suicide (M)(3):

gunfire murder with exploding flesh, multiple
point blank murder of helpless car wreck victims with as much concern as whether to order cola or tea, multiple
murder by gunshot to head with splattering flesh and blood, multiple
murder by impalement, multiple
murder by neck break