Become a CAPtain


with your
The foul language eliminator


Removes profanity from movies and TV shows
CHRISTMAS SPECIAL! $40.00 OFF!
A Christian Family


Internet Network Cooperative
Switch to LifeLine


for Christian
long distance service
The Family Friendly


Internet Service
A Christ Centered


Community Web Site
Comments?

Christian Media News
A Singles
Christian Network
PLEASE VOTE!


for this site!
---

ALERT: To fully understand this report you should first visit the topics
suggested by the CAP Table of Contents.



SUMMARY / COMMENTARY:

*Anna and the King* (PG-13) -- a remake of the classic *The King and I*

Academy award winner Jodi Foster played Anna Leonowens, a real-life educator who went to Siam to teach the many offspring of the polygamist king. In the shadows of the 1956 Rodgers and Hammerstein classic *The King and I*, the widowed Anna Leonowens arrives in Siam with her ten-year old son to teach the king's 68 children about science, art and literature in an attempt to strengthen and homogenize the political and military facia of Siam with the "rest of the world." I suspect the kids learned more about arrogance and defiance against their father than anything else. And I suspect the promoters were trusting much to the grandeur of the movie's predecessor: a trust which was not entirely successful. This 142-minute movie was an adult movie which honors the true intent of "adult" content, not necessarily because kids should not see it but because kids would not likely care less about it.

Chow Yun-Fat (King Mongkut) is not "et cetera, et cetera, et cetera" (Yul Brynner) in this remake of the Rodgers and Hammerstein classic. The king of Siam has always been bald Yul Brynner and Brynner has always been the king of Siam. But Yun-Fat may change that icon and put some hair on it -- and more clothes. In his role as the polygamist king, Yun-Fat's presence was indeed quintessential to the movie, at times subduing and subordinating Foster's role. Of course, the script and choreography -- the cinematography -- of a movie is its true power, but that power is most ineffective without the talents and skills of a quality cast. Yun-Fat was true competition for Brynner.

While the movie was sometimes boring and sometimes stimulating, the storyline which touched me the deepest was the loss of a powerfully delightful sparky young lass of about 6 or 7 years old to illness. Since my wife and I have cared for 23 children (one biological and 22 foster/adopted) over the years, that part of the story struck close to home for me.

Matters of ignominy in this movie included a king's portion of violence which was NOT as gory as most PG-13 violence. There was an unseen beheading where the only imagery seen were the victim's hands being sprayed with a light spray of blood. A caning of a woman gave a touch of inhumane brutality to this movie. A well moulaged broken tibia gave the most blood to the movie. The most invasive violence was the scenery of several dead men hanging by the neck from trees with others having obviously been slaughtered in warfare [Ezek. 20:7]. Several additional deaths/murders occurred, too [Rom. 13:9 and others].

The only sexual material in this movie was the sparsely clad young lady who was beheaded. Several times her anatomy ghosted through her cheesecloth-like scant double strap wrap. Maybe many, even most adults don't notice this kind of choreography, but a typical 13 year old boy will.

Offense to God lost nearly half of its starting 100 points due to the worship of a false god [Ex. 20:3] and giving the king the title "Lord of Life." And once, the king was noted as saying "If your Bible is correct." [2 Tim. 3:16]

So many of our visitors seem to be relying only on this Summary/Commentary for a full assessment of this movie. This is not possible. For the best representation of the CAP Entertainment Media Analysis Model applied to this movie, visit the Findings/Scoring section below.



---
FINDINGS / SCORING: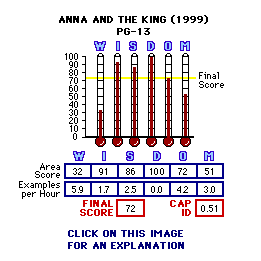 NOTE: Multiple occurrences of each item described below may be likely.

Wanton Violence/Crime (W):

multiple deaths
broken leg gore
attempted murder
political treachery resulting in deaths
beheading (unseen) with light blood spray

Impudence/Hate (I)(1):

arrogance against fair authority
child sneaking a smoke
military deception
portrayal that arrogance and rebellion in a male/female relationship makes for a deeper love

Sex/Homosexuality (S):

picture nudity
female anatomy ghosting through clothing

Drugs/Alcohol (D):

none noted

Offense to God (O)(2):

polygamy
king's title was "Lord of Life"
praying to god of stone and metal
worship of false idols/gods
"If your Bible is correct"
portrayal of evolution as standard

Murder/Suicide (M)(3):

at least four murders by hanging
death squad murders
murders by poisoning