Become a CAPtain


with your
A Christ Centered


Community Web Site
Comments?

Christian Media News
A Singles
Christian Network
PLEASE VOTE!


for this site!
ALERT: To fully understand this report you should first visit the topics
suggested by the CAP Table of Contents.



SUMMARY / COMMENTARY:

*American Beauty* (R) -- Rose? Not likely.

While the central mother in this movie doted over her rose garden, the main thing in *American Beauty* about roses was the rose petals hiding female private parts -- and the petal passed during a kiss from a teen girl to a married man. This movie was guided imagery into distortion of proper and acceptable. A great deal of teen sexual activity, sexual talk, and sexuality painted this movie as unfit. And Thora Birch, one of the two actresses in the movie who permitted the world to see their femine attributes is reported to be only 17 years old! Since the threshold of acceptability of gratuitous nudity content has now sleezed into the lives of 13-year old kids and even younger (ref: Titanic - PG-13, The Fifth Element - PG-13, others), why not let younger and younger girls bare themselves onscreen? Maybe in another few years 16 year old girls will be permitted to participate in this enlightened and progressive freedom? In a few more years, 15, 14, 13.......? (if the Bride is not collected before then).

Note that there were a few "lead-in" portrayals of homosexuality as well: they did nothing for the script, plot, or even the choreography. They were just there, obviously as a token to push homosexuality as normal and acceptable. The only mentions of homosexuality being wrong were presented, of course, by a U. S. Marine Colonel with "redneck" mentality. The violence committed by the Colonel against a man the he thought was his son's homosexual partner did not need the preparatory presentation of homosexual neighbors. I cannot understand how the secular reviewers lauded over this movie. I wonder if they are parents? Grandparents?

I'll not watch this movie again. I'll not watch the teen stripping for video taping and to seduce a married man, and sensual dancing with self-touching to sexually arouse the married man. I'll not watch again the father hitting his teen son with his fist several times, the teen son dealing in drugs, and the smoking of dope by a teen. Nor will I watch again the family bitterness and arguing, the teen arrogance against parental authority, or the parents speaking to the teens with the same hate in their voice and words. And as usual, the most foul of the foul words worked its way into the script along with the three/four letter word vocabulary.

I hope to not sit through trash like this again. I will not describe it any further. The description is already bordering "vulgar" itself. Let the numbers and listing speak for this analysis. For the best representation of the CAP Entertainment Media Analysis Model applied to this movie, visit the Findings/Scoring section from Full Report below.



---
FINDINGS / SCORING: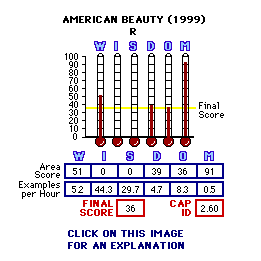 NOTE: Multiple occurrences of each item described below are likely.

Wanton Violence/Crime (W):

blackmail
family bitterness with some violence
mother slapping daughter in the face
father beating son with his fist repeatedly
recreational gunfire
firearm for control
repetition of the sound of gunfire from murder
family violence

Impudence/Hate (I)(1):

20 uses of the most foul of the foul words
25 uses of the three/four letter word vocabulary
planning father's murder
family and marital bitterness (throughout)
teen arrogance against parent (throughout)
slapping self during fit of anger in desperation
stalking and peeping
father requiring periodic drug testing of teen son
lies to manipulate and to deflect/deny accountability
teen two-facedness (different 'face' in parents' presence than when not)
encouragement to lie for personal gain
video taping a dead bird "because it's beautiful"
teaching bitterness
"I already do hate my dad. He's a total ----"
vulgar hate talk about parent
"Well, I guess I'm not a very nice girl am !?" with arrogance and pride
hate talk to and from parents/teens
lies to enable drug dealing
distortion of truth to create a hateful situation
teens planning to run away
teen staring and smiling at murder gore

Sex/Homosexuality (S):

teen in underwear
adult masturbation in shower with nudity and talk about it
homosexual presence
Internet nudity
adult in underwear
teen sexually teasing married man
sensual dance by teen for a married man
self-touching to entice a married man
peodphilial desires - adult to teen
attempts to gain sex with a teen by a married man (throughout)
sexual innuendo, comments, insults, and references to human sexual anatomy
man in bed with a woman
masked nudity, full upper female nudity, full male rear nudity, and nudity with only rose petals hiding private parts
teen girl strip tease dance to arouse married man
vulgar sex conversations between teen girls
teen girl in towel only
admission of and pride in immoral (teen) sexual relationships and use of sex to manipulate
adult male masturbation (from rear)
discussion of masturbation after the fact
sexual intercourse with motions and sounds and major skin exposure in adultery
aftermath of sexual intercourse - man and woman in bed partially covered
teen girl stripping in front of bedroom window for taping by teen boy neighbor
teen girl in a teen boy's bedroom, her in underwear in his bed and him nude standing
homosexual kiss
inappropriate touch - married man with teen girl
married man necking with a teen girl
teen girl using upper nudity to seduce a married man
teen boy and girl in bed together
teen girl in bathtub with water covered with rose petals and married man reaching under the petals

Drugs/Alcohol (D):

booze
drinking
drunkenness
teen serving booze at a party
teen smoking dope alone and with an adult (the married man)
drug dealing by a teen
illegal possession of drugs
giving booze to a teen
teen drinking

Offense to God (O)(2):

God's name in vain 16 times, once with the four letter expletive

Murder/Suicide (M)(3):

graphic murder by gunshot to the head