Now by MC, Amex, Visa and more!
Your donations are TAX DEDUCTIBLE!
The foul language eliminator


Removes profanity from
movies and TV shows
Switch to LifeLine


for Christian
long distance service
The Family Friendly


Internet Service
A Christ Centered


Community Web Site
SPECIAL OFFER


From the best-seller book series.
NOW ONLY Just in time for Christmas!




Comments?


Christian Media News
A Singles
Christian Network
Your One Stop


For Everything Christian
Free Email Ministry


Subscribe Today!!
Christian Banner eXchange
---
ALERT: To fully understand this report you should first visit the topics suggested by the CAP Table of Contents.

For FREE text-only versions of our media analysis reports as they are calculated, open this email then click "send." If your browser does not handle this URL format properly, send us a request to add you.
NOTE: The CAP Analysis Model makes no scoring allowances for trumped-up "messages" to excuse or for manufacturing of justification for aberrant behavior or imagery, or for camouflaging such ignominy with "redeeming" programming. Disguising sinful behavior in a theme or plot does not excuse the sinful behavior of either the one who is drawing pleasure from the sinful display or the practitioners demonstrating the sinful behavior. This is NOT a movie review service. It is a movie analysis service to parents and grandparents to tell them the truth about movies using the Truth. If you do not want the plot, ending, or "secrets" of a movie spoiled for you, skip the Summary/Commentary. In any case, be sure to visit the Findings/Scoring section -- it is purely objective and is the heart of the CAP Entertainment Media Analysis Model applied to this movie
"There are some in the entertainment industry who maintain that 1) violent programming is harmless because no studies exist that prove a connection between violent entertainment and aggressive behavior in children, and 2) young people know that television, movies, and video games are simply fantasy. Unfortunately, they are wrong on both accounts." [Emphasis is mine] And "Viewing violence may lead to real life violence." I aplaud these associations for fortifying 1 Cor. 15:33. Read the rest of the story. From our five-year study, I contend that other aberrant behaviors, attitudes, and expressions can be inserted in place of "violence" in that statement. Our Director - Child Psychology Support, a licensed psychologist and certified school psychologist concurs. For example, "Viewing arrogance against fair authority may lead to your kids defying you in real life." Or "Viewing sex may lead to sex in real life." Likewise and especially with impudence, hate and foul language. I further contend that any positive behavior can be inserted in place of "violence" with the same chance or likelihood of being a behavior template for the observer; of being incorporated into the behavior mechanics and/or coping skills of the observer. In choosing your entertainment, please consider carefully the "rest of the story" and our findings.
If Scriptural references appear, the full text appears at the end of the Summary / Commentary likely using a mix of KJV and NIV.
---



MAY YOUR THANKSGIVING DAY 2000 GLORIFY OUR LORD


In 1786 Congress asked George Washington to designate a day to extend thanksgiving to God for America and our freedoms, for it was by His Grace we have them. This is why we have Thanksgiving Day as a national holiday each year, not to satiate ourselves with food but to give thanks to God. Though the meaning has been lost for many, that we gather as families and friends began as fellowshipping on Thanksgiving Day. As are many national holidays, Thanksgiving Day is founded in worship of God. There is no doubt. American was founded on faith in God and His Sacrifice of His Precious Son. No amount of rationalization, distortion or revision of history books can change that. Please remember and give thanks for what He has done for us, even and especially through His Beloved Son.



SUMMARY / COMMENTARY:

*102 DALMATIANS* (G) -- again she seeks Dalmatians for their fur.

Cruella ... er... rather Ella DeVil "Cruella sounds so ... cruel" gets out of prison. Cured by Dr. Pavlov of her lust for dog fur--indeed fur of any kind, Cruella launches a campaign of befriending all organizations who care for dogs. For a while, anyway. There is much material in this movie requiring adult experience as well as material for the tykes. One of the points understandable by adults only is the name of the doctor who "cured" Cruella -- Dr. Pavlov. Many of us will be reminded of Psych 101 where we learned of Ivan Pavlov, 1904 Nobel Prize winner for his work in the physiology of the digestive system using dogs. Later Pavlov presented his theory on stimulus/response behavior mechanics using dogs -- the noted Pavlov's dogs. Imagine that. Dogs respond to stimuli just like humans do. God knew what He was doing when He made the animals and gave them to us [Gen. 1:26]: that He gave them to us to rule and to be good stewards of, but not to serve.

In this British extension of the original *101 Dalmatians*, after being cured of that which put her in prison, Cruella is assigned to a probation officer whom Cruella offended previously. But something happens as Big Ben tolls. Cruella reverts to her fur-loving ways and recovers all the furs she had previously tossed in storage out of her sight. After wallowing in the furs again for a few moments, she notices again that the only fur she does not have is a genuine white fur with black spots. So again she seeks Dalmatians for their fur.

Some of the programming that may give concern includes the use of "6660" on the prison cap of Cruella. Combined with her last name this was clear in focus, whether comical or not. There was also some "minor" crowd violence, some criminal activities such as planning theft and theft, and locking people in closets/rooms. Additionally, there were several instances of smoking and a couple instances of drinking. One scene was rather disturbing as truck tires ran over the hands of Cruella's butler -- twice and with little consequences which may cause some kids to question mom/dad's teachings about being run over by a car. There were even threats to kill, by Ms. DeVil of course [John 10:10, 1 Pet. 5:8]. And serving as cause for adding the reminder of our God-ordained superiority over animals in Gen. 1:26, one of the characters says "Dogs are people, too." There were no noted sexual issues in the entire show. Indeed, it was in part a gentle and warm romance. And there were no instances of murder or suicide.



ooooooooooooooooooooooooooooooooo



1 Cor. 15:33 (KJV) Be not deceived: evil communications corrupt good manners. (NIV) Do not be misled: Bad company corrupts good character.
Gen. 1:26 And God said, Let us make man in our image, after our likeness: and let them have dominion over the fish of the sea, and over the fowl of the air, and over the cattle, and over all the earth, and over every creeping thing that creepeth upon the earth.
John 10:10 The thief [devil, thief of souls] cometh not, but for to steal, and to kill, and to destroy: I am come that they might have life, and that they might have it more abundantly.
1 Pet. 5:8 Be sober, be vigilant; because your adversary the devil, as a roaring lion, walketh about, seeking whom he may devour:



ooooooooooooooooooooooooooooooooo



As always, it is best to refer to the Findings/Scoring section -- the heart of the CAP analysis model -- for the most complete assessment possible of this movie.



---
FINDINGS / SCORING: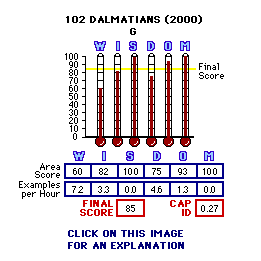 NOTE: Multiple occurrences of each item described below may be likely, definitely when plural.

Wanton Violence/Crime (W):

"minor" crowd violence
planing theft, theft
planting evidence to frame
breaking and entering
breaking jail
hands run over by truck, tires seen on hands
reckless vehicular endangerment
human sent into baking oven
threats to kill

Impudence/Hate (I)(1):

tantrum by an adult
locking people in a room/closet
hateful employer
beating

Sex/Homosexuality (S):

none noted

Drugs/Alcohol (D):

smoking
drinking

Offense to God (O)(2):

the use of "6660"
"Dogs are people, too"

Murder/Suicide (M)(3):