SUMMARY / COMMENTARY:
THIS SECTION IS TEMPORARILY DISCONTINUED DUE TO LACK OF DONATIONS. The Findings/Scoring section will continue unaffected by the cutbacks.
FINDINGS / SCORING:
(The heart of the CAP Analysis Model)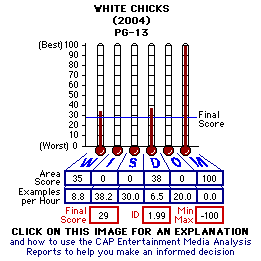 Wanton Violence/Crime (W)
fighting, repeatedly
gun battle
pretending suicide to manipulate
action violence
animal attack
assault, repeatedly
slapstick violence
gunfire to kill, repeatedly
gunfire injury, twice

Impudence/Hate (I)

40 uses of the three/four letter word vocabulary
vulgar insult session
use of a racially derogatory term
vulgar gesture
flatulence, repeatedly, "rapid-fire"
crude vomit humor
lies
cruelty
racial insult

Sexual Immorality (S)

self fondling
below navel skin - male
tale of sexual immorality with pride
crotch grab
prosthetics of human female anatomy, repeatedly
men dressing as women throughout
vulgar comment about sexual desire, twice
lesbian touch
ghosting of female anatomy through clothing
crotch hit
suggestive eye movement
suggestive comments
revealing swim suits, both male and female
approach to conquer sexually
flash rear nudity, repeatedly,
intercourse innuendo, repeatedly,
adult in underwear, repeatedly,
sex talk
dressing to maximize the adult form or skin exposure, repeatedly,
talk of sexual conquest
camera angle to force viewer on private parts
sexual innuendo, repeatedly,
tongue/licking kissing
sniffing women's underwear
vulgar talk with gestures
lesbian touch dancing
exceptionally vulgar dancing, twice
implication of homosexual sex
stripping a girl to nudity
excessive cleavage
offer of sex for personal gain
homosexual suggestion, repeatedly,

Drugs/Alcohol (D):

drug dealing
drinking, repeatedly,
drugs to seduce
smoking

Offense to God (O)

one use of God's name in vain with the four letter expletive and 30 without
man in woman's bra
transvestism throughout [Deut. 22:5]

Murder/Suicide (M)

none noted