SUMMARY / COMMENTARY:
(While the Scriptural references are certainly not subjective, my commentary may be and sometimes is somewhat subjective.)
If Scriptural references appear, the full text appears at the end of the Summary / Commentary.



(2006), NR [13-NR*] ... squarely in the scoring range earned by PG-13 films



Production (US): ChristianCinema.com; AFFIRMFILMS, a Sony Pictures Entertainment Company, a Signal Hill Pictures Production, a Wes Llewellyn Film
Distribution (US): ChristianCinema.com
Director(s): Wes Llewellyn
Producer(s): Kevin Downes, David A. R. White, Bobby Downes, Brad Heller, Andrea Logan White, Wes Llewellyn , Amanda Llewellyn, Rick Lowitzki, Fran Lowitzki
Written by: Amanda Llewellyn
Cinematography/Camera: Todd Baron
Music: Timothy Williams
Vocals by: Tata Vega
Film Editing: Mike Wech, Wes Llewellyn
Production Design: Keleigh Ferguson
Art Direction: Jason Richards
Viewed on Sony Home Entertainment DVD


In The Moment After of 1999 the Rapture happened and the Tribulation began. Thousands disappeared locally. Millions nationally. Uncounted world-wide. FBI Agents Adam Riley (David A. R. White) and Charles Baker (Kevin Downes) have been investigating 632 of the thousands of local disappearances.

A one-world government has taken over life as the last two countries of the world surrender to the Global Alliance. Riley has come to have faith in God and is labeled a religious extremist and domestic terrorist, is convicted of treason and is scheduled for execution. On his way to his execution Riley escapes by the efforts of resistance fighters rescuing cohort convicts Howey (Jason Brock), a resistance leader, and Rex (Christopher Greer). Refusing to go with his fellow escapees and the resistance fighters Riley is now afoot alone and in desolate country, miles from anywhere.

Riley eventually finds a rundown residence and broke in to find food and water for survival. Riley is caught in the act, fortunately by a fellow believer who leads Riley to one of a number of "clusters" of believers hiding in the remote country from the Global forces.

Some time earlier Riley's FBI partner Charles Baker had resigned from the FBI but is reactivated by the sadistic Col. Fredericks of the Global police to infiltrate a certain cluster to locate Riley and bring him in. Baker initially refuses to help Fredericks but Fredericks has a choke hold on Baker -- Baker's wife is in prison for refusing the mark of the beast and Fredericks uses that advantage to extort Baker into doing his biding.

That is the basis for the rest of the film. There is much more to the sometimes complex plot and story but I am not going to spoil any more of it.

Much of what I reveal to you in this report is indeed necessary and integral to the story and plot but necessity does not excuse negative influence. It is your call to make whether the influences are acceptable for your children. Further, though the entire story is about what might be expected during the Tribulation and is not real, a bad influence does not have to be real to influence badly.

The Moment After II: The Awakening is not rated (NR). By the CAP Analysis Model it earned a final score of 60 which places it squarely in the scoring range earned by PG-13 films (55 to 67 out of 100) in the comparative baseline database.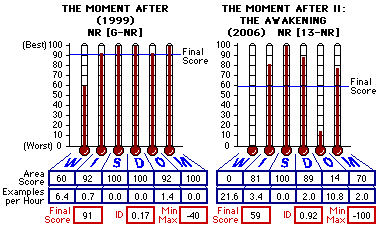 FINDINGS / SCORING:
(The objective heart of the CAP Analysis Model, independent of and insulated from the Summary / Commentary section.)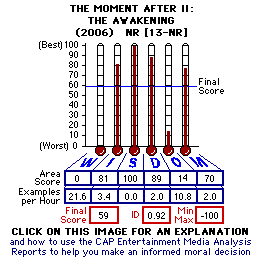 Wanton Violence/Crime (W) - Zero out of 100

firearms to control/threaten, repeatedly
physical assault, repeatedly
bloody lip after assault
firearm threat and arrest for not having the mark
reckless endangerment in traffic
police action violence
firearm threat, repeatedly, including to the face
gunfire killing
gunfire injury in the chest - collateral injury
emergency medical services with blood
cardiac arrest with revival due to gunfire injury
extortion to force performance with health of wife as leverage
physical assault, repeatedly
breaking and entering with trespassing
petty theft for survival
pursuit to assault
beating, repeatedly
threat to kill
hit to the face
massive firearms for assault
dead bodies, repeatedly
infiltration to destroy
long fight sequence with actions that would kill
gunfire to intimidate
gunfire assault with injury
defensive killing, two

Impudence/Hate (I) - 81 out of 100

lies
massive tattoos
treachery to steal

Sexual Immorality (S) - 100 out of 100

none noted

Drugs/Alcohol (D) - 89 out of 100

cigar, repeatedly

Offense to God (O) - 14 out of 100

one use of God's name in vain but without the four letter expletive
portrayal that accepting the mark of the beast brings prosperity
portrayal of adulterous interest
mockery of the Scriptures, repeatedly
"God's dead"
using a gun as a prayer tool
"Your God is a myth"
portrayal of inhuman strength, repeatedly
demon possession
unholy resurrection

Murder/Suicide (M) - 78 out of 100

multiple murders by gunfire