SUMMARY / COMMENTARY:
(While the Scriptural references are certainly not subjective, my commentary may be and sometimes is somewhat subjective.)
If Scriptural references appear, the full text appears at the end of the Summary / Commentary.



(2007), PG-13 [PG-13*] -- another pea in the five-pea pod of Potter films...



Cast/Crew Details Courtesy Internet Movie Database
Production (US): Warner Bros. Pictures, Heyday Films, Cool Music
Distribution (US): Warner Bros. Pictures
Director(s): David Yates
Producer(s): David Barron, David Heyman, Tim Lewis, Lorne Orleans, Lionel Wigram
Written by: J.K. Rowling
Screenplay: Michael Goldenberg
Cinematography/Camera: Slawomir Idziak
Music: Nicholas Hooper
Film Editing: Mark Day
Casting: Fiona Weir
Production Design: Stuart Craig
Art Direction: Andrew Ackland-Snow, Mark Bartholomew, Alastair Bullock, Gary Tomkins
Viewed At: Driftwood Theater 6


Morally speaking, as revealed in the scoring distribution comparative below, the content of Harry Potter and the Order of the Phoenix is another pea in the five-pea pod of Potter films: fairly heavy in Wanton Violence/Crime (W); somewhat harsh in Impudence/Hate (I); nearly innocuous in Sexual Immorality (S), Drugs/Alcohol (D) and Murder/Suicide (M). But all five films are dismal in Offense to God, each earning an investigation area score of zero in Offense to God (O).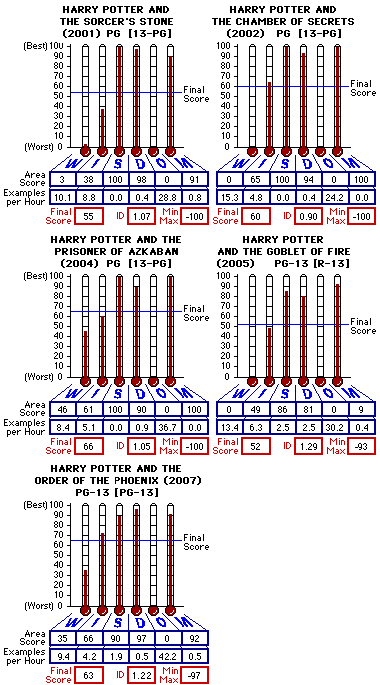 What else might one expect of a film about teaching children to practice witchcraft and wizardry: to practice that which God condemns, not only from a witchcraft/wizardry perspective [Deut. 18:10 - 12; Rev. 21:8; Rev. 22:14-15] but also from the perspective of teaching/causing the little ones to sin? [Luke 17:2] "Little ones!? Gimme a break. The Potter cast are teenagers of the high school age stratum." 'Little ones' is mikros, meaning less by birth, younger. All of your children are "less by birth" than you. All of them are younger. So, "little ones" includes at-home teens.

I suspect the scoring distribution for each of the two upcoming Potter films, Harry Potter and the Half-Blood Prince (November 2008) now in post production and Harry Potter and the Deathly Hallows for 2010 will be close to a photocopy of that for each of the now five productions. Note that we have an analysis of each of the five Potter films. Links to them are provided alphabetically on our CAP Reports page. As a convenience, they are


FINDINGS / SCORING:
(The objective heart of the CAP Analysis Model, independent of and insulated from the Summary / Commentary section.)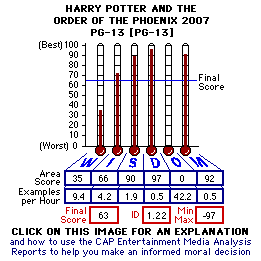 Wanton Violence/Crime (W)
bully tormenting, repeatedly
images of evil/terror
conspiring to overthrow
intense talk of killing
attack/assault by evil, repeatedly
brutality
physical assault by teacher
willingness to harm student because of hunger for power
attempted murder, repeatedly
abduction

Impudence/Hate (I)

teen tantrum
a single use of the three/four letter word vocabulary
classroom disrespect
advising to cheat/deceive
"Sort of exciting, isn't it ... breaking the rules"
lie
joy in oppressive control

Sexual Immorality (S)

homosexual insult
open-mouth kissing - teen
excessive cleavage

Drugs/Alcohol (D):

ale/beer and only once

Offense to God (O)

use of unholy magic to do good, frequent
talking letter
moving photographs/paintings, repeatedly
broom riding
unholy magic to control, do harm/kill, mesmerize, distort, move objects, transform, etc., throughout
presentation of numerous unholy creatures
magical appearance/disappearance
transformation, shape-shifting, repeatedly
tattoos and other images of evil such as the Satanic cross (mockeries of the holy Cross, see Back to School Special), repeatedly
horse-drawn cart moving with no visible horse
floating candles
unholy creature visible only to those who have seen death
prophesying
human face talking in flames
unholy events
dreamstate terror, repeatedly
premonitions of evil
seeking revenge
long sequence of witchcraft/wizardry warfare
evil spirit possession
teaching witchcraft/wizardry to children, throughout
wizard speaking of "dark powers" as if the use of witchcraft/wizardry is not dark
portraying a noble image of the practice of witchcraft/wizardry, throughout

Murder/Suicide (M)

one murder by unholy forces