SUMMARY / COMMENTARY:
(This section may be and sometimes is somewhat subjective.)
If Scriptural references appear, the full text appears at the end of the Summary / Commentary.



(2002), NR [G*] -- ... an "egg-citing" expectament ...



Production (US): One Reel Vision
Distribution (US): CNI Distribution
Created by: William Kelly, Kevin S. Kish
Produced by: William Kelly
Executive producer(s): Lawrence McGean, Linda McGean
Written & directed by: Kevin S. Kish
Photography by: Peter Wiltshire
Music by: Dave Burden
Marketing: Willow Creek Marketing
Viewed on: CNI Home Video


Of the more than 1000 films we have analyzed only three other films have earned the highest possible CAP final score of 100. Grandpa Friendly's Workshop: Making Friends is the fourth. Out of more than 1000.

Grandpa Friendly's Workshop is perfectly suited to the preschool and early elementary age stratum. It speaks not at the target audience but to it in age-appropriate communication. Seldom should the parent need to explain a word. The expressions and mannerisms used should fit the expected experiential maturity of the target audience. Those that might yet be outside of your child's understanding should provide an opportunity for your child to learn and expand his/her expressional communication.

The story opens with a few moments of lively song and animation of an average neighborhood. At the workshop of James Thomas Friendly, a.k.a. Grandpa Friendly (James Colbert), Yeti bear Vern (voice of Byron Morton) helps welcome the audience. Grandpa Friendly explains how he came by the nickname "Grandpa Friendly." Soon another Yeti bear named Sarah (voice of Marlene Morton) arrives while Grandpa Friendly prepares to test his repairs on a toy locomotive that carries a surprise for Vern and Sarah.

While waiting for Grandpa Friendly to start the test of the train, the mechanical cuckoo clock bird Godo (voice of Christine Cseh) appears with the chime of the clock. Vern dons a protective helmet because Godo is not that skilled at flying.

Next, by Internet, the trio visit Professor Sciencestein (voice of Byron Morton) with a pesky tail as he demonstrates an "egg-citing" expectament ... err ... an experiment with an egg.

There is more to the 27.2 minute video such as an animated tale of friendship between Harry the dog (voice of Karlo Locatelli) and Crystal the cat (voice of Linda McGean). Indeed, the theme of the entire production is friendship. Its base Bible verse is Proverbs 17:17 "A friend loves at all times..."

A number of friendships are demonstrated as the characters portray the joy of friendship with people who will "be there when you need a hug." Grandpa Friendly's Workshop: Making Friends should make a worthy addition to your video library for your kids.

An Internet search on "Grandpa Friendly's Workshop: Making Friends" will return many Internet sites where the video is listed.

The video includes a trailer of another video I have had the pleasure to have analyzed for Willow Marketing, the feature-length Home Beyond the Sun, an exceptionally poignant story of the horrors of a Chinese girl being adopted by an American family to give her a Home Beyond the Sun.




ooooooooooooooooooooooooooooooooo



SCRIPTURAL APPLICATION(S)
If needed to focus or fortify, applicable text is underlined or bracketed [ ] or bold. If you wish to have full context available, the Blue Letter Bible is a convenient source. If you use the Blue Letter Bible, a new window will open. Close it to return here or use "Window" in your browser's menu bar to alternate between the CAP page and the Blue Letter Bible page.

CHAPTER/VERSE


Prov. 17:17 A friend loves at all times, and a brother is born for adversity.



ooooooooooooooooooooooooooooooooo



As always, it is best to refer to the Findings/Scoring section -- the heart of the CAP analysis model -- for the most complete assessment possible of this movie.
FINDINGS / SCORING:
(The objective heart of the CAP Analysis Model, independent of and insulated from the Summary/
Commentary section.)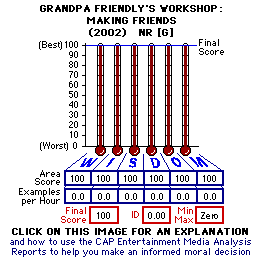 Wanton Violence/Crime (W)
none noted

Impudence/Hate (I)

none noted

Sexual Immorality (S)

none noted

Drugs/Alcohol (D):

none noted

Offense to God (O)

none noted

Murder/Suicide (M)

none noted