SUMMARY / COMMENTARY:
(While the Scriptural references are certainly not subjective, my commentary may be and sometimes is somewhat subjective.)
If Scriptural references appear, the full text appears at the end of the Summary / Commentary.



(2008), NR [R-NR*] ... about as "R" as R can get



Production (US): Red Umbrella Pictures and Living Water Films
Distribution (US): Fatal Flaw
Director(s): Amariah Olson, Obin Olson
Producer(s): Joshua Quinn Simpkins, Rachelle R. Simpkins, Larry Olsen
Written by: Joshua Quinn Simpkins, Timothy Sullivan
Cinematography/Camera: Amariah Olson, Obin Olson
Music: Jason Graves
Film Editing: Amariah Olson, Obin Olson
Casting: Heather Campbell
Production Design: Amariah Olson, Obin Olson
Viewed on Fatal Flaw DVD





In my opinion, Fatal Flaw is certainly not a family night popcorn flick. The probability is very high that this short film would have received a R rating from the Motion Picture Association of America. Fatal Flaw earned a final score of 17 out of 100. R-rated films in the comparative baseline database earned final scores 54 and below out of 100. And not only did the final score turn out to be R-equivalent, each of the content investigation area scores is R-equivalent. Typically for films that earn R-equivalent final scores, at least a couple of the content investigation area scores are above R-equivalent but not so for this film.

A note about the Examples per Hour scores. For example, the Wanton Violence / Crime examples per hour score equates to 53.2 examples of assault on morality and ethics per hour for this 20.3 minute film. This means that if the film were to continue for one hour and rate of assaults were to remain constant over that hour the number of assaults would be 53.2. The rate of assaults in the 20.3 minutes is 53.2 per hour.

Now to the Influence Density (ID). Films rated R in the comparative baseline (developmental) database earned a range of ID figures from 0.78 to 2.04, the higher the figure the more dense the occurrences of assaults. Fatal Flaw earned an ID score of 3.10.

This film is about as "R" as R can get.

Jonathan Ridecher (Rowland Brand) has problems. One of the major problems is with gambling. Jonathan comes from a sorted past as well. On the way to church for Easter Sunday services, Jonathan explains animatedly to his wife, Fran (Regina McKenzie) that he is not going with them: that he is going to a bar to watch a major basketball game between the Yellow Jackets and the Serpents. Jonathan has a lot of money riding on the winner.

After Jonathan's team lost by one point, two thugs (Stan Wood, Louis Gagnon) arrive to collect Tony's (Lew Musser) winnings off of Jonathan. Not having the money, Jonathan tries to transfer money by phone call but Fran had blocked that maneuver and there was no money to pay off Jonathans gambling debt. The thugs then murdered Jonathan with a single gunshot.

The next scene is of Jonathan bound in a chair, answering to an Interrogator (Daniel Jones), suggesting he is at the Throne explaining himself to God. After a long session of torture and parading of Jonathans sorted past, the master voice says "I find you GUILTY. The penalty is death by execution." The Interrogator again lowers a firearm at Jonathan and pulls the trigger.

To discuss any further the plot and story would spoil too much of it should you decide, after learning about its content through this service, the film is fit for viewing.



ooooooooooooooooooooooooooooooooo


Following are brief discussions of the content per individual content investigation area. As always the Findings section of this report, the heart of the CAP Analysis Model, is the best source for discovering the full accounting of the content of this film.

Wanton Violence/Crime (W) - Zero out of 100
Violence/crime content is wide. Speeding. Irresponsible driving. Marital friction. Physical and verbal assaults of varying intensities. Beating. Abduction. And more. Please look to the listing in the Findings section for a full accounting of the violence content of this film.

Impudence/Hate (I) - Zero out of 100
While there is only one use of profanity in the entire 20.3 minutes of the program, there are enough other matters of impudence and/or hatred to make this 20-minute segment of film equivalent to many R-rated films in impudence/hate content. Cruelty and brutality, both physical and verbal. Tormenting. Cowardice. Lies. [Rev. 21:8]

Sexual Immorality (S) - 34 out of 100
The sexually immoral content of this film centers around uncomplimentary sexual comments about waitresses, sex offer and a man and a woman making out in a car in adultery (though Jonathan stopped the affair before intercourse). [Matt. 5:28, Hebr. 13:4]

Drugs/Alcohol (D) - Zero out of 100
Apparently to help paint the caliber of the characters and the theme, a large portion of the film's time is spent in a bar, drinking. [Eph. 5:18, 1 Cor. 6:19]

Offense to God (O) - 51 out of 100
Gambling and denial that immoral thoughts are sinful comprise the content applicable to this investigation area.

Murder/Suicide (M) - 18 out of 100
Though Jonathan is seen "alive" and talking to the Interrogator after the thugs killed him, it is considered murder. Further, the death by gunfire of the character who sacrificed himself for Jonathan's sake (Dan R. Kelly) may have been unintentional but it is still murder.



ooooooooooooooooooooooooooooooooo


SCRIPTURAL APPLICATION(S)

If needed to focus or fortify, applicable text is underlined or bracketed [ ] or bold. If you wish to have full context available, the Blue Letter Bible is a convenient source. If you use the Blue Letter Bible, a new window will open. Close it to return here or use "Window" in your browser's menu bar to alternate between the CAP page and the Blue Letter Bible page.

CHAPTER/VERSE


FINDINGS / SCORING:
(The objective heart of the CAP Analysis Model, independent of and insulated from the Summary / Commentary section.)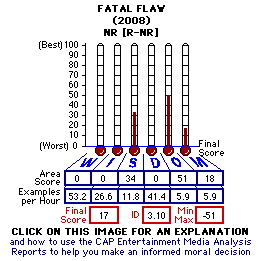 Wanton Violence/Crime (W) - Zero out of 100

speeding
inattentive driving resulting in near collision
marital argument in moving car leading to hitting a pole
physical assault of varying intensities, repeatedly
beating
abduction
firearm for offense
false imprisonment
torture with electricity to the face
torture with water to the face horizontal
order to kill
scene of gun pointed at a man's head while seeing the loaded cylinder rotate slowly as the trigger is pulled
attempted gunfire killing

Impudence/Hate (I) - Zero out of 100

one use of profanity
adolescent cruelty to another adolescent
adolescent brutality, verbal and physical, to another adolescent
adolescent tormenting of another adolescent
cowardice by an adolescent
lying

Sexual Immorality (S) - 34 out of 100

uncomplimentary sexual comments about women, twice
sex offer
man and woman making out in car - adulterous

Drugs/Alcohol (D) - Zero out of 100

smoking
brewery
booze, repeatedly
drinking, repeatedly
bar, repeatedly

Offense to God (O) - 51 out of 100

gambling
denial that thoughts can be sinful

Murder/Suicide (M) - 18 out of 100

gunfire murder (heard but not seen)
murder of one sacrificing himself for another




All the above in 20.3 minutes!