ChildCare Action Project:
Christian Analysis of American Culture (CAP)

Entertainment Media Analysis Report
MAR-0025
New Crime City (1994)
MPAA: R. CAP Score: 16. CAP ID: 3.2

Thomas A. Carder
CAP President


: To fully understand this report you should first visit the topics suggested by
the CAP Home Page Table of Contents.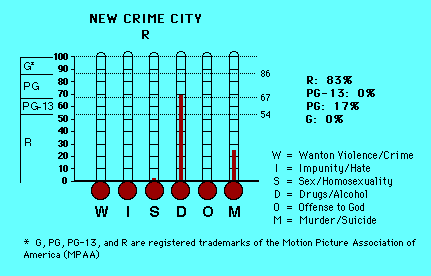 New Crime City was a bad movie. Not bad in the sense of choreorgaphy, acting skills, and other theatrical talents: bad in the sense of morality and values! VERY bad! There were too many examples of unacceptable material occurring at too high a rate to accurately annotate each example. It is assumed that all the scores shown, even the zero scores, are higher than they should be.

The Wanton Violence/Crime (W) score sufferred greatly due to beatings, torture, human bondage, and lust for killing.

All of the 100 starting points in Impunity/Hate (I) were eaten up by exceptionally foul and vulgar language.(1)

The starting 100 points for Sex/Homosexuality (S) were chipped away quickly and thoroughly to almost nothing by
homosexual suggestion between two females
a woman performing "oral sex" on a man's thumb
suggestive eye movements by a "Christian" leader
nudity with sexual intercourse
glorification of prostitution in the name of survival.
The Drugs/Alcohol (D) score was about half-strength after the last frame due to the use of drugs to control people and due to the planning of mass murder by a biological agent.

The score in the Offense to God (O) Investigation Area lost all hope of being acceptable due to the use of God's name in vain with and without the three/four letter word vocabulary, counterfeiting of the Scriptures, and "Drug named God."(2)

The Murder/Suicide (M) score was chopped down to a stump because of exceptionally graphic murder, placement of people in lethal no-win situations, a hanging, extermination of "unneeded" people, and suicide

In accordance with the comparative baseline database, New Crime City was equivalent to R-rated material in Wanton Violence/Crime, Impunity/Hate, and Sex/Homosexuality, Offense to God, and Murder/Suicide. The movie presented material equivalent to PG material in Drugs/Alcohol. Thus, New Crime City was equivalent to the comparative baseline database corresponding to 83% R-rated material and 17% PG-rated material.

Below is the table showing the scoring in each of the Investigation Areas plus the Final Score drawn from the actual CAP Report. In addition, the number of examples per hour of unacceptable material in each of the Investigation Areas is provided.





(1) As noted in CAP Special Report-0001, "Investigation Area and Scoring Trend" Impunity/Hate was the strongest presence in all four movie classifications. I pray you will find time to read Special Report-0001. It has a strong revelation about the entertainment media.

(2) The use of the three/four letter word vocabulary is incorporated into the Impunity/Hate Investigation Area. The use of God's name in vain with and without the three/four letter word vocabulary is incorporated into the Offense to God Investigation Area.


---


Additional reviews of this movie may be located at "Movie Review Query Engine at Telerama."



---
The ChildCare Action Project (CAP) is a nonprofit Christian ministry. We rely on public support. If you wish to contribute to the CAP, please send your donations to
ChildCare Action Project
Post Office Box 177
Granbury, TX 76048-0177

Tax exemption applies in accordance with Section 501(c)(3) of the Internal Revenue Service Tax Codes.

Please feel free to write to us.



---

You are welcome to
Go back to the CAP Reports Page
or
Top of the CAP Home Page
or
CAP Table of Contents

or leave me an email message or comment at

cap@capalert.com
---


Thank you for visiting us and may God bless you. Prayerfully, we will provide you with some of the most revealing commentary and investigative reporting you have ever read.

In the name of Jesus:
Lord, Master, Teacher, Savior, God.

Thomas A. Carder
President
ChildCare Action Project: Christian Analysis of American Culture (CAP)



Copyright ChildCare Action Project (CAP)