ChildCare Action Project:
Christian Analysis of American Culture (CAP)

Entertainment Media Analysis Report
MAR-0024
Mother's Boys (1993)
MPAA: R. CAP Score: 51. CAP ID: 1.15

Thomas A. Carder
CAP President


: To fully understand this report you should first visit the topics suggested by
the CAP Home Page Table of Contents.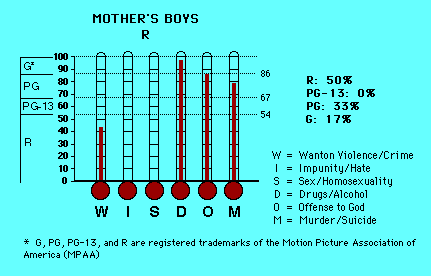 To this investigator, Mother's Boys was particularly nasty, vulgar, hateful, and vengeful. It was exteremely offensive to anyone who loves children. I find it very hard to believe anyone could make such a movie. The gerenal theme of this movie was about a mother, who left her husband and three children years before, trying to get back with her family -- or else kill them. She was to reach her goal at any cost, even murder and sexual abuse of her children. Mother's Boys was most foul. The mother (Jamie Lee Curtis) tried to intimidate her children into being accessory to murder. She even forced her 12-year old son, sitting in a chair by her bathtub, to look at her cesarean scar while she stood nude in the bathtub. She used her maternal influence to force him to look at her scar. She tried to make him feel guilty about his resistance to helping her by using "Had to cut me open to take you out [and this is the thanks I get]" intimidation. All other examples of unacceptable material were pale in comparison to the sexual impropriety of Mother's Boys.&nbsp Only the objectivity of the CAP Model prevented me from rating this movie CAP: ZERO! I hope to never see another movie like this one!

Wanton Violence/Crime (W) lost most of its 100 starting points due to unacceptable material such as

manical stabbing of a biology lab frog
injuring one's self to implicate others
self-mutilation
adolescent attack on and binding of the father's girlfriend
a general theme of treachery and lies to commit murder.
All of the 100 starting points in Impunity/Hate (I) were eaten up by unacceptable material such as

arrogance toward father's rightful authority
giving a child illegal liberties (permitting the12-year old boy drive a car to 'buy' his loyalty)
adolescent syping on parental privacy
a 12-year old boy in bed with his mother
inciting violence in siblings
foul language by a child(1)
trickery to mislead into violent behavior
a boy intentionally causing near-fatal injuries to his grandmother by struggling against her righteous authority
a boy preventing one brother from helping his seriously injured other brother
In addition to the unacceptable material identified in the beginning parapgraph, all of the 100 starting points in Sex/Homosexuality (S) were dissolved due to
attempts to touch genitals
full nudity and posterior nudity
the mother undressing to her bra in fron of her 12-year old son and teasing her son with flash nudity
sexual language
The Drugs/Alcohol (D) score was chopped a little due to the mother removing her clothes in a drunken stupor to the husband she abandoned.

Offense to God (O) lost a few points due to the use of God's name in vain.(2)

Murder/Suicide (M) fell prey to the CAP Model because of a daughter's attemps to silence her mother by pinching off life-sustaining IV tubes while lying in a hospital bed.

There were many other examples of unacceptable material in accordance wtih the CAP Investigation Standards, far too many to list herein.

In accordance with the comparative baseline database, Mother's Boys was equivalent to R-rated material in Wanton Violence/Crime, Impunity/Hate, and Sex/Homosexuality. The movie presented material equivalent to PG material in Offense to God and Murder/Suicide. Mother's Boys was equivalent to G-rated material in Drugs/Alcohol. Thus, Mother's Boys was equivalent to the comparative baseline data corresponding to 50% R-rated material, 33% PG material, and 17% G-rated material.

Below is the table showing the scoring in each of the Investigation Areas plus the Final Score drawn from the actual CAP Report. In addition, the number of examples per hour of unacceptable material in each of the Investigation Areas is provided.





(1) As noted in CAP Special Report-0001, "Investigation Area and Scoring Trend" Impunity/Hate was the strongest presence in all four movie classifications. I pray you will find time to read Special Report-0001. It has a strong revelation about the entertainment media.

(2) The use of the three/four letter word vocabulary is incorporated into the Impunity/Hate Investigation Area. The use of God's name in vain with and without the three/four letter word vocabulary is incorporated into the Offense to God Investigation Area.


---


Additional reviews of this movie may be located at "Movie Review Query Engine at Telerama."



---
The ChildCare Action Project (CAP) is a nonprofit Christian ministry. We rely on public support. If you wish to contribute to the CAP, please send your donations to
ChildCare Action Project
Post Office Box 177
Granbury, TX 76048-0177

Tax exemption applies in accordance with Section 501(c)(3) of the Internal Revenue Service Tax Codes.

Please feel free to write to us.



---

You are welcome to
Go back to the CAP Reports Page
or
Top of the CAP Home Page
or
CAP Table of Contents

or leave me an email message or comment at

cap@capalert.com
---


Thank you for visiting us and may God bless you. Prayerfully, we will provide you with some of the most revealing commentary and investigative reporting you have ever read.

In the name of Jesus:
Lord, Master, Teacher, Savior, God.

Thomas A. Carder
President
ChildCare Action Project: Christian Analysis of American Culture (CAP)



Copyright ChildCare Action Project (CAP)