ChildCare Action Project:
Christian Analysis of American Culture (CAP)

Entertainment Media Analysis Report
MAR-0019
The Little Rascals (1994)
PG
CAP Score: 89
CAP ID: 0.2

Thomas A. Carder
CAP President


: To fully understand this report you should first visit the topics suggested by
the CAP Home Page Table of Contents.




The Little Rascals sufferred the hardest loss of points due to sexual innuendo, children portrayed as having adult coping skills and thought processes, and bully-type threats of physical harm and death. Hateful argumentation being protrayed as a natural consequence of differences of opinion took some toll as well. While a few language euphemisms and roughness were present(1), the strongest presence of unacceptable material was in Sex/Homosexuality. Alfalpha was seen in no more than his shoes, socks, and briefs falling into a swimming pool. The next scene was of Alfalpha's briefs floating in the pool. Darla at pool-side was then heard making comments about how Alfalpha looked nude with stong implications to genitalia.

For those of you who are too young to know the trademarks of Alfalpha, one trademark was his high opinion of his terrible signing voice. Another of his trademarks was a cowlick that caused a bundle of hair to stand straight up. Some of the classic comedy of the original Little Rascals included the plethora of ways to get the cowlick to lay down, from using lard to a rooster pecking the hair out. Alfalpha called his cowlick his personality. In this new version of The Little Rascals after Alfalpha won a race and while standing next to Rheba Macintyre she said, "Is that really a cowlick or are you just glad to see me?" This is a good example, however slight it may seem, of the true decline of moral standards in the entertainment media of today from that of yesteryear!

Several other occurrences of sexual innuendo were noted such as "Aw, bite me" and "Got a burger to go with that shake" referencing the swing of a posterior while walking. Strange, though, that both of these innuendos were used by, from, directed at, and about males.

This investigator applauds the success of the movie at keeping drugs/alcohol out!

The ChildCare Action Project findings for The Little Rascals are as follows.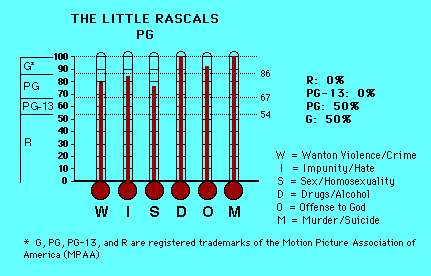 In accordance with the comparative baseline data, The Little Rascals was equivalent to PG material in Wanton Violence/Crime, Impunity/Hate, and Sex/Homosexuality, but equivalent to G material in Drugs/Alcohol, Offense to God, and Murder/Suicide.

Below is the table showing the scoring in each of the Investigation Areas plus the Final Score drawn from the actual CAP Report. In addition, the number of examples per hour of unacceptable material in each of the Investigation Areas is provided.





(1) The use of the three/four letter word vocabulary is incorporated into the Impunity/Hate Investigation Area. The use of God's name in vain with and without the three/four letter word vocabulary is incorporated into the Offense to God Investigation Area.


---


Additional reviews of this movie may be located at "Movie Review Query Engine at Telerama."



---
The ChildCare Action Project (CAP) is a nonprofit Christian ministry. We rely on public support. If you wish to contribute to the CAP, please send your donations to
ChildCare Action Project
Post Office Box 177
Granbury, TX 76048-0177

Tax exemption applies in accordance with Section 501(c)(3) of the Internal Revenue Service Tax Codes.

Please feel free to write to us.



---

You are welcome to
Go back to the CAP Reports Page
or
Top of the CAP Home Page
or
CAP Table of Contents

or leave me an email message or comment at

cap@capalert.com
---


Thank you for visiting us and may God bless you. Prayerfully, we will provide you with some of the most revealing commentary and investigative reporting you have ever read.

In the name of Jesus:
Lord, Master, Teacher, Savior, God.

Thomas A. Carder
President
ChildCare Action Project: Christian Analysis of American Culture (CAP)



Copyright ChildCare Action Project (CAP)