ChildCare Action Project:
Christian Analysis of American Culture (CAP)

Entertainment Media Analysis Report
MAR-0018
Lassie (1994)
PG
CAP Score: 80
CAP ID: 0.36

Thomas A. Carder
CAP President


: To fully understand this report you should first visit the topics suggested by
the CAP Home Page Table of Contents.




Lassie was a fine movie except for the typical arrogance: the "it ain't good enough no matter what 'it' is" attitude. The movie included unacceptable material such as a child slamming things, facially showing hatred for his father, and saying "Why don't we just kill ourselves" in response to things beyond the child's control, thus fueling and perpetuating the general lack of coping skills of youth. Lassie also presented a child running away from home as a technique of dealing with emotional pain, also fueling and perpetuating the general lack of coping skills in youth. The movie also seemed to say to children that they could and indeed should handle any problem that occurs and are to do so without adult presence or involvement.

Lassie presented a minor child handling a rifle in a menacing way toward another child, an older brother trying to teach his yonger sister the 'ways' of older kids before her time, and multiple examples of "leave me alone, get off my back." Also, a teenage actor in the movie invited a teenage girl over to his parents house while his parents were gone: for whatever reason was left up to the imagination of the viewer (Yeah, right). Another typical PG mannerism was the portrayal of kids being two-faced: responsible in the presence of their parents and not so when the parents were out of the picture. The movie presented some foul language and used God's name in vain many times.(1). Lying was present as was a father teaching his son how to commit a crime (rustling).

This movie was an outstanding success in keeping drugs/alcohol out!

The ChildCare Action Project findings for Lassie are as follows.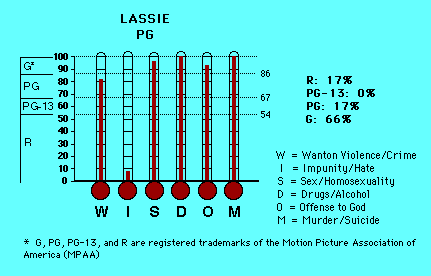 In accordance with the comparative baseline data, Lassie was equivalent to R material in Impunity/Hate. It was equivalent to PG material in Wanton Violence/Crime, and was G-rated material in all other Investigation Areas.

Below is the table showing the scoring in each of the Investigation Areas plus the Final Score drawn from the actual CAP Report. In addition, the number of examples per hour of unacceptable material in each of the Investigation Areas is provided.





(1) The use of the three/four letter word vocabulary is incorporated into the Impunity/Hate Investigation Area. The use of God's name in vain with and without the three/four letter word vocabulary is incorporated into the Offense to God Investigation Area.


---


Additional reviews of this movie may be located at "Movie Review Query Engine at Telerama."



---
The ChildCare Action Project (CAP) is a nonprofit Christian ministry. We rely on public support. If you wish to contribute to the CAP, please send your donations to
ChildCare Action Project
Post Office Box 177
Granbury, TX 76048-0177

Tax exemption applies in accordance with Section 501(c)(3) of the Internal Revenue Service Tax Codes.

Please feel free to write to us.



---

You are welcome to
Go back to the CAP Reports Page
or
Top of the CAP Home Page
or
CAP Table of Contents

or leave me an email message or comment at

cap@capalert.com
---


Thank you for visiting us and may God bless you. Prayerfully, we will provide you with some of the most revealing commentary and investigative reporting you have ever read.

In the name of Jesus:
Lord, Master, Teacher, Savior, God.

Thomas A. Carder
President
ChildCare Action Project: Christian Analysis of American Culture (CAP)



Copyright ChildCare Action Project (CAP)