ChildCare Action Project:
Christian Analysis of American Culture (CAP)

Entertainment Media Analysis Report

MAR-0003
Black Beauty (1994)
G
CAP Score: 96
CAP ID: 0.07

Thomas A. Carder
CAP President


: To fully understand this report you should first visit the topics suggested by the CAP Home Page Table of Contents.




Black Beauty was a fine family movie. Only a couple places would need parental guidance. In particular, a carnival flame-spitter may influence some impressionable children into trying it. Also risky for a child needing self-esteem, an adolescent in the movie ran into a burning barn to rescue a horse. Trained professional firefighters would likely not do that, so movies should not protray child herosim using wreckless abondon. While only one case of Drugs/Alcohol was noted in public drunkenness, two examples of Offense to God were noted in an old bitter woman calling one of her servants an "incompetent fool" and in the use of God's name in vain.

The ChildCare Action Project findings for Black Beauty are as follows.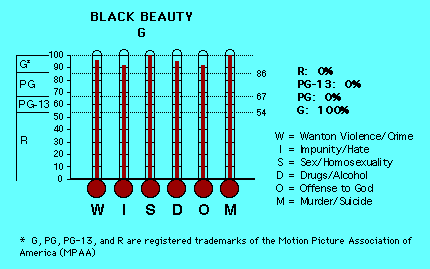 Black Beauty was realitvely "tame." Except for a smattering of Wanton Violence/Crime, Impunity/Hate, and Offense to God, the movie was safe for all ages. The movie was an outstanding success at keeping sex and murder out!



---


Additional reviews of this movie may be located at Movie Review Query Engine at Telerama.



---
The ChildCare Action Project (CAP) is a nonprofit Christian ministry. We rely on public support. If you wish to contribute to the CAP, please send your donations to
ChildCare Action Project
Post Office Box 177
Granbury, TX 76048-0177

Tax exemption applies in accordance with Section 501(c)(3) of the Internal Revenue Service Tax Codes.

Please feel free to write to us.



---

You are welcome to
Go back to the CAP Reports Page
or
Top of the CAP Home Page
or
CAP Table of Contents

or leave me an email message or comment at

cap@capalert.com
---


Thank you for visiting us and may God bless you. Prayerfully, we will provide you with some of the most revealing commentary and investigative reporting you have ever read.

In the name of Jesus:
Lord, Master, Teacher, Savior, God.

Thomas A. Carder
President
ChildCare Action Project: Christian Analysis of American Culture (CAP)



Copyright ChildCare Action Project (CAP)