ChildCare Action Project:
Christian Analysis of American Culture (CAP)

Entertainment Media Analysis Report
MAR-0002
Andre (1994)
PG
CAP Score: 78
CAP ID: 0.4

Thomas A. Carder
CAP President


: To fully understand this report you should first visit the topics suggested by the CAP Home Page Table of Contents.




Andre was a warm and loving film about a special seal who adopted a human family, based on a true story. The most unfortunate feature about Andre was the saturation of examples of unacceptable material in the Impuntiy/Hate area of investigation, particularly (and as usual) due to foul language and arrogance. Statements such as "I hate him" and dialogues such as "It's all your fault" were present. Other examples of impunity included teens stealing and drinking beer, disregard of mother's instructions, and portraying of a child about 6 or 7 years old taking it upon herself to go out to sea in a small dingy during a storm to rescue Andre. This movie provides evidence of yet another way "Hollywood" is trying to increase the threshold of cultural tolerance of previously objectionable material.

While Impunity/Hate presented the largest quantity of offensive material, Wanton Violence/Crime, Drugs/Alcohol, and Offense to God lost a few points but due to material such as the use of euphemisms of God's name, fistfights, and drinkning beer to celebrate, to ease worries, or to ease sorrows. However, Andre was extremely successful at having no examples of murder or suicide. There had to be a little slice of sex by showing a young teenage girl sunbathing, but not severe enough to warrant a loss of points. Maybe I should have taken off at least one point because it was clear why the scene was presented -- only to show the girl in a bathing suit. And if this was not a little slice of sex, why was the scene not of a fat person in shorts?

The ChildCare Action Project findings for Andre are as follows.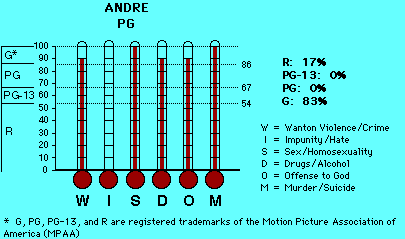 Andre was clearly equivalent to R-rated material in Impunity/Hate but G-rated material in everything else.

Below is the table showing the scoring in each of the Investigation Areas plus the Final Score drawn from the actual CAP Report. In addition, the number of examples per hour of unacceptable material in each of the Investigation Areas is provided.



---


Additional reviews of this movie may be located at Movie Review Query Engine at Telerama.



---
The ChildCare Action Project (CAP) is a nonprofit Christian ministry. We rely on public support. If you wish to contribute to the CAP, please send your donations to
ChildCare Action Project
Post Office Box 177
Granbury, TX 76048-0177

Tax exemption applies in accordance with Section 501(c)(3) of the Internal Revenue Service Tax Codes.

Please feel free to write to us.



---

You are welcome to
Go back to the CAP Reports Page
or
Top of the CAP Home Page
or
CAP Table of Contents

or leave me an email message or comment at

cap@capalert.com
---


Thank you for visiting us and may God bless you. Prayerfully, we will provide you with some of the most revealing commentary and investigative reporting you have ever read.

In the name of Jesus:
Lord, Master, Teacher, Savior, God.

Thomas A. Carder
President
ChildCare Action Project: Christian Analysis of American Culture (CAP)



Copyright ChildCare Action Project (CAP)