ChildCare Action Project:
Christian Analysis of American Culture (CAP)

Entertainment Media Analysis Report

MAR-0001
Addams Family Values (1993)
PG-13
CAP Score: 56
CAP ID: 0.8

Thomas A. Carder
CAP President


: To fully understand this report you should first visit the topics suggested by the CAP Home Page Table of Contents.




Addams Family Values was by all means not a movie from which to emulate proper family values. The whole movie was based on cultural and ethnic pretense of unholy authority, the humorous setting notwithstanding. Any Christian should find the movie particularly upsetting and above all should not let their children watch it, 13 years old or otherwise.

The ever-present blasé attitude about death in Addams Family Values may desensitize some children toward the value of human life. Presentation of physical aggression by children toward parents/adults and justification of murder in the name of being human could give some children an excuse to lower their coping skills. A female sensuously sucking on a finger of the Hand, the maximizing of female cleavage, and unmistakable sexual innuendo could corrupt proper respect for sex in some kids. While only one example of the use of drugs and/or alcohol was noted, the movie presented children trying to murder their baby brother four times, once by guillotine in which the baby caught the blade with his fingers just before it reached his neck.

As with most movies targeted at children, Addams Family Values employed talented child actors and actresses who possessed the ability to express worldly maturity, seriousness, and unarguable deduction -- traits desired by most adolescents thus providing an improper role model from which to emulate values.

The ChildCare Action Project findings for Addams Family Values are as follows.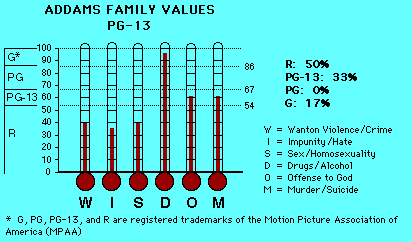 Clearly, Addams Family Values was R-rated material in Wanton Violence/Crime, Impunity/Hate, and Sex/Homosexuality. While the movie was G-rated material in Drugs/Alcohol, it was PG-13 material in Offense to God and Murder/Suicide.

Below is the table showing the scoring in each of the Investigation Areas plus the Final Score drawn from the actual CAP report. In addition, the number of examples per hour of unacceptable material in each of the Investigation Areas is provided.



---


Additional reviews of this movie may be located at Movie Review Query Engine at Telerama.



---
The ChildCare Action Project (CAP) is a nonprofit Christian ministry. We rely on public support. If you wish to contribute to the CAP, please send your donations to
ChildCare Action Project
Post Office Box 177
Granbury, TX 76048-0177

Tax exemption applies in accordance with Section 501(c)(3) of the Internal Revenue Service Tax Codes.

Please feel free to write to us.



---

You are welcome to
Go back to the CAP Reports Page
or
Top of the CAP Home Page
or
CAP Table of Contents

or leave me an email message or comment at

cap@capalert.com
---


Thank you for visiting us and may God bless you. Prayerfully, we will provide you with some of the most revealing commentary and investigative reporting you have ever read.

In the name of Jesus:
Lord, Master, Teacher, Savior, God.

Thomas A. Carder
President
ChildCare Action Project: Christian Analysis of American Culture (CAP)



Copyright ChildCare Action Project (CAP)